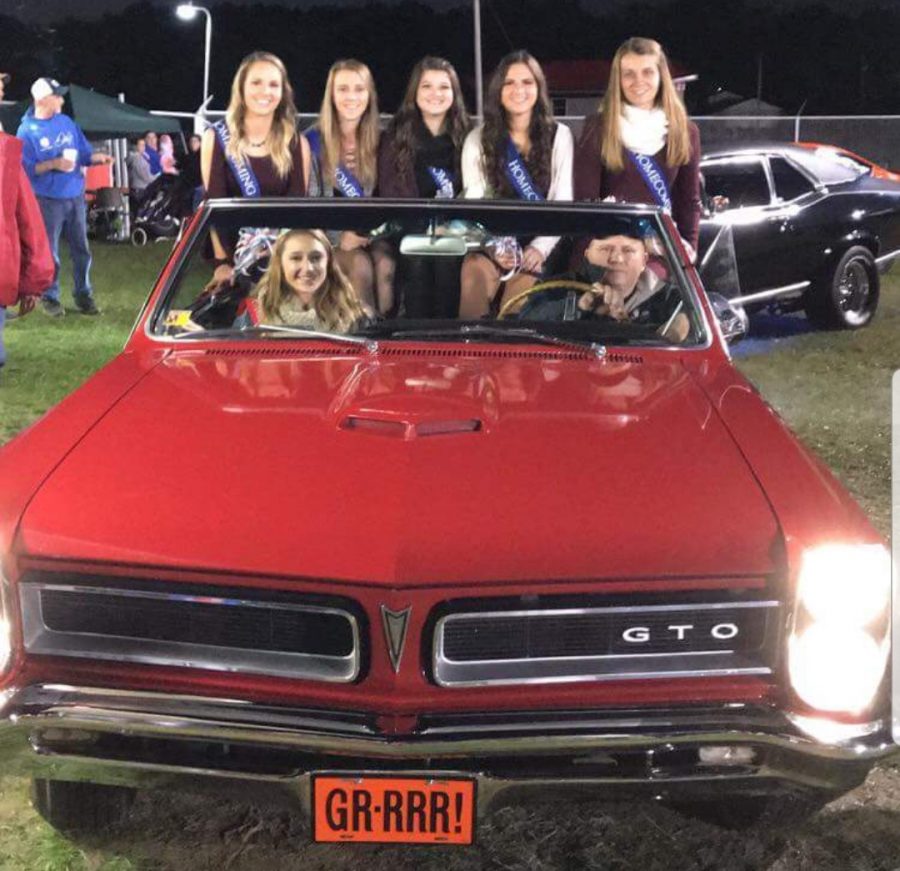 Homecoming 2018: Wrap-Up
West Branch ended the Homecoming week with the crowning of Derek Yingling and Jennifer Adams as the King and Queen for 2018. Mallarie Maines was the runner up and was also crowned.
Leading up to that, the students spent a week celebrating West Branch and the candidates.
On Friday, September 21 the court was announced.  Mason Bock, Larry Cowder, Quentin Maguire, Derek Yingling and Nathan Zetts were selected to represent the boys.
Mason is the son of Bill and Cindy Bock. He enjoys many outdoor activities, including fishing, hunting and hiking. He also likes woodworking.
Larry is the son of Larry and Valerie Cowder. Larry is in FCA, Student Government, basketball and track.  He helps as a ball boy for the soccer team.
Quentin is the son of Christopher and Kirsten Maguire. He is involved in Teen Court, Envirothon, Student Government and track.
Derek is the son of George Yingling and Beth Fisch. Tara Yingling is his stepmother. He is a three-sport athlete, playing football, wrestling and running/throwing on the track team.
Nathan is the son of Greg and Mary Zetts.  He has been involved with Student Government, Envirothon, NHS, track, drama club, choir, concert band, and marching band. Nathan is a twirler with the WB band front.
Jennifer Adams, Julia Herring, Mallarie Maines, Hailey Prestash and Emily White were chosen as the queen candidates.
Jennifer is the daughter of Daniel and Susan Adams. Jen is president of three clubs at West Branch: Ski Club, National Honor Society and Student Government. She is the statistician for both the varsity football and wrestling teams.  She plays soccer.
Julia is the daughter of Tim Herring and Jill Vroman. Julia plays soccer, basketball, and softball. She is treasurer of Ski Club. Julia is also involved in National Honor Society, Student Government and Golf Club.
Mallarie is the daughter of Reynold and Jennifer Maines of Morrisdale. She has been involved in cheerleading at West Branch for six years. She is in Varsity Club, Yearbook and FCA.
Hailey is the daughter of Tom and Jane Prestash.  She is a member of both National Honor Society and Student Government. Hailey on the fall cross country team and the spring track and field team. In addition, Hailey plays on the basketball team.
Emily is the daughter of Mike and Christine White of Morrisdale. She is involved in many clubs including FCA, Teen Court, NHS and Student Government. She is on the soccer team, basketball team and the track and field team.
Throughout the week of September 24 to 28, the candidates and many other students participated in the five days of Spirit Week: PJ Day, Twin Day, Country Day, Decade Day and Red/White/Blue Day.  Julia Herring most enjoyed Twin Day because she got to dress as a "frat boy" with her twin Nathan Zetts, who was also on the court. Runner-up Mallarie Maines, who twinned with Ruthie Betts, said her favorite Spirit Week day was also Twin Day.
On Friday during school, a pep assembly was held. The candidates were introduced and Derek was crowned as the king.  When asked, Derek said that the best part of the week was enjoying it with his friends. After the crowning, the candidates and some students and teachers who had shown a lot of spirit played games. They had a relay race and played blindfolded musical chairs. Emily White felt that the relay game was a lot of fun. She and her team had to dress as Mr. Williamson and run back and forth. Her team was the winner of the relay.
Friday night at the game the girls arrived at field in classic cars driven by alumni and community members: Doug Ceprish, Tom Veres, Tom Blasko, Bill Lindstrom,  Jeff Coval and Scott Thomas. Escorted by their parents, they were introduced at halftime. Skylar Ceprish, the 2017 Queen, was there to crown the winner.
After the game, a dance was held in the gym.