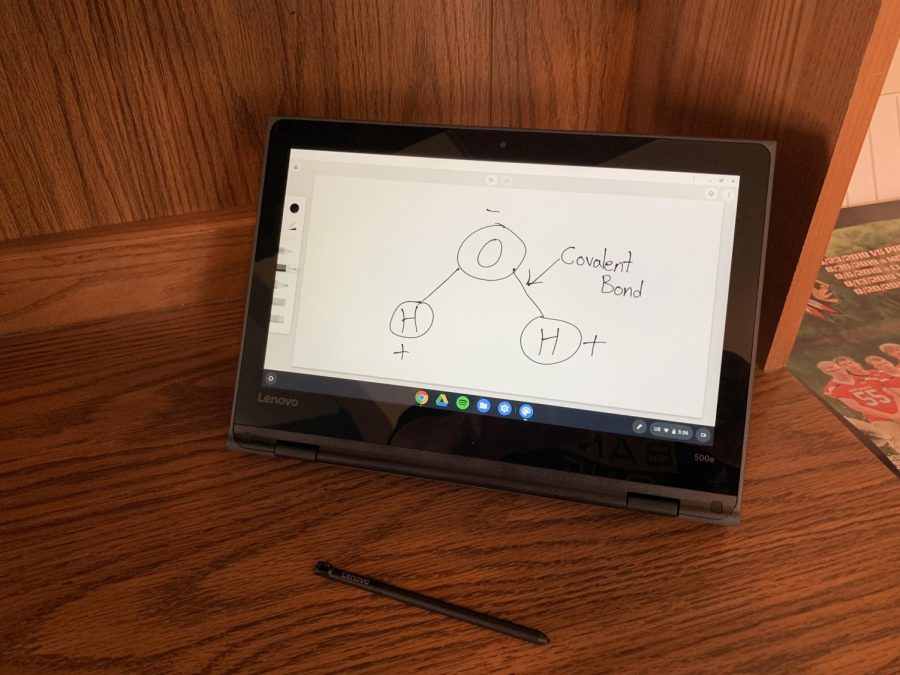 Noah Fry
Starting with the 2019-2020 school year, freshmen and sophomores will be using Chromebooks for their 1-on-1 laptops.
Mr. Bisko, the Technology Director, said the reason that we got the Chromebooks is that, "Prices of Chromebooks dropped to where it became more fiscally responsible to go the Chromebook route. Also, the amount of machines that we have out in a one to one is more than what we can manage without a full management system in place."
Mr. Bisko also elaborated on why only the freshmen and sophomores received Chromebooks. "We would have liked to have done all of the grade levels, however, we only had funds to purchase two grade levels of laptops in the high school. We also started a middle school one to one this year, which we were also purchasing laptops for."
Students seem to be pleased with their new laptops. Sophomore Rylee Sabol thinks that "They are definitely an upgrade from our previous laptops." "They're better then what we got last year," sophomore Brendan Zetts remarked, "I'm glad the technology department decided to replace them."
However, some students seemed concerned about the privacy of the new laptops compared to the old ones. "We have always been able to monitor students", Bisko clarified, "We have multiple ways of tracking devices and seeing what sites students have been accessing. The question is that are our students going to want to use a device that they feel is constantly being monitored? I have heard students tell me that we monitor webcams and microphones. We don't have access to turn on anything like that nor would we want to. However, we can gather any information on any student device if needed, even if we don't have the device in hand."
Last year, all students had the Lenovo 11e. This year, freshmen and sophomores have the Lenovo 500e. The 500e adds some brand new features. One feature is the touchscreen. Due to this feature, you can flip the screen around like a tablet, or even tent it. It also comes with a stylus that comes with some features itself, like screen capture capabilities and a laser pointer.
Chrome OS is another highlight. It comes equipped with the G Suite, so students can access Google Docs, Google Slides, Google Sheets, and Google Drive quickly and easily. Bisko stated, "What I think will make the students' lives easier is that the Chromebooks will be easier for the students to operate."
The 500e also has two cameras, unlike the 11e which only had one. The 500e features a 720p HD front-facing camera with a microphone, and a 5MP HD world-facing camera with a microphone. The new Chromebooks also feature a 10-hour battery life.
Some other tech specs include:
Intel Celeron N3450U Processor
11.6″ HD (1366×768) IPS Multitouch Glossy Display
Intel HD Graphics 500
4GB LPDDR4 1600 MHz Memory
32GB eMMC Storage
2 USB-C 3.0 Ports
Micro SD Card Reader
Audio Combo Jack
Intel Dual Band Wireless AC(2×2) 7265 + Bluetooth 4.2 Connectivity