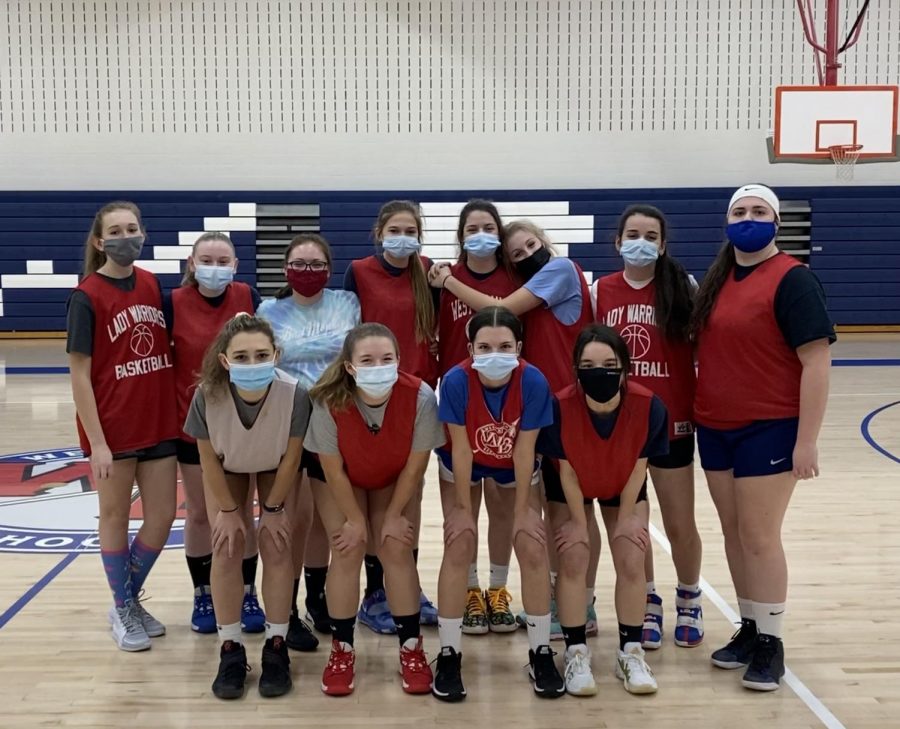 Mariah Koleno
After the setback of COVID-19 and online instruction, the Lady Warriors are finally ready to get back in action for their 2021 basketball season. The girls are led by Head Coach Justin Koleno and Assistant Coach Mariah Koleno. The Lady Warriors currently have 13 members on the team, with only seven returning players. Their overall goals for this season are to work better as a team and to obtain a higher winning record than last year. 
With nearly half of the team consisting of incoming freshmen, the Lady Warriors must adapt to playing with each other before their first game. According to PIAA rules, the team must have ten practices before they are allowed to compete. With such a small time slot, the Warriors have been hard at work since their first practice on January 11th. Being in such an unpredictable situation due to COVID-19, the team hopes to at least finish their season. 
Many of the girls have goals for both the team and themselves for the 2021 season. Sarah Betts, the leading scorer, has plans in store for her last season of high school basketball. She has lettered three years in a row, with hopes that she will be able to play a full season and become a 4-time letter winner. Sarah's personal goals include achieving more points and assists than her stats from last year, in order to help out the team. Alongside Sarah on their senior journey, Ella Miller also has hopes for the upcoming season. Ella first joined the team during her junior year, becoming a one-time letter winner in basketball. She plans to focus on getting better as a player, helping her team as much as she can, and creating bonds with the girls. Both seniors hope to finish out the season without COVID-19 interruptions while making the team a comfortable place for everyone to work together. 
The Lady Warriors play their long-awaited first game on Friday, January 22nd, at home. West Branch is hosting a senior night at 7 p.m. in the new gym for the game against Curwensville High School. Junior Varsity starts at 6 p.m. and Varsity follows at 7:30. Spectators from the away team are not permitted to attend. For home games, each player will receive four tickets for distribution to attendees. 
2021 Lady Warrior Varsity/J.V. Basketball:
Seniors:
Sarah Betts
Ella Miller
Juniors:
Tory Kalke
Sophomores:
Hannah Betts
Kaitlyn McGonigal
Emily Parks
Kayleigh Smeal
Freshmen:
Katrina Cowder
Erin Godin
Madison McDowell
Jenna Mertz
Allison Shingledecker
Go Lady Warriors!