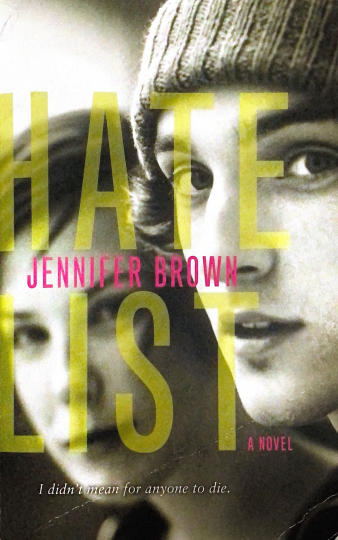 Trinity Prestash
Hate List is an extremely powerful, captivating, and addictive read for any age, but is mainly geared towards teens and young adults. This novel is extremely relatable for the current generation who have witnessed and suffered from the tragedies and effects of too many school shootings. Hate List follows the story of Valerie as she returns to school and tries to obtain normalcy five months after her boyfriend Nick Levil open-fired on their high school cafeteria. Not only does Valerie have to overcome the injury she sustained in the shooting, but she also faces backlash and blame from other students for helping Nick, the shooter, write the list: the simple list they made to write down the names of the people they hated: the list that he used to pick his targets in the shooting. Throughout the novel, Valerie faces moral dilemmas as she still loves Nick, because to her, he wasn't just a shooter. However, her ultimate goal is to complete the school year and graduate with her class. Hate List touches on the topics of grief, acceptance, forgiveness, divorce, bullying, mental health, suicide, and many other issues and emotions that teens go through and learn to cope with. 
Hate List is so compelling to audiences because it utilizes the first-person point of view and follows the story of the girlfriend of the school shooter. This unusual perspective allows audiences to see into the mind of the shooter before the incident and shows how easy it is to miss the most obvious warning signs that something bad is going to happen. Following Valerie also provides audiences with sympathy as she learns how to cope with loving Nick while hating him for what he has done to the school. Using first-person POV shows how detrimental bullying can be to teenagers and how lonely high school can become when you don't have a proper support system. Although the plot of Hate List takes place after the shooting occurred, the author utilized flashbacks to tell pieces of the day that the shooting occurred and provides news articles to tell the story of all the victims that were in the shooting. These two qualities together make Hate List addictive and give it a unique structure. The flashbacks and articles make Hate List addicting and reading the final flashback from Valerie witnesses the shooting first-hand is breathtaking. 
In conclusion, the 2009 novel Hate List by Jennifer Brown is remarkably powerful and engaging to audiences of all ages. Hate List will touch the hearts of many and provide insight into the aftermath of school shootings and those who were affected by these tragedies.