Meet Vendy: The Book Vending Machine!
West Branch Elementary welcomes "Vendy," a book vending machine!
In schools worldwide, two common values are important, reading and good behavior. The staff of West Branch Elementary has found a creative and fun way to combine the two to inspire their students to practice respectful behavior to earn books and get them to read more. This idea is nicknamed "Vendy," a book vending machine. Vendy officially became a member of the West Branch community on March 1st. While it has many contributors, Mrs. White, the Elementary Title One Reading Specialist, created the concept.
The book vending machine is a system where teachers look for "WOW" behavior in their students, but as Mrs. White says, "teachers are looking for not only WOW behavior, but WOW behavior to the next level!" This behavior could range between academic, social, or emotional conduct, so the "WOW" behavior can vary from student to student. Once a teacher sees a behavior they believe is Vendy Worthy, they give the student a gold coin. Once the student receives the coin, they must use it immediately by going to the vending machine, selecting a book, and pressing the corresponding number, then the book dispenses.
Mrs. White stated, "I was inspired to create Vendy when I was looking for unique ideas to get children interested in reading and came across the Book Vending Machine. As a reading specialist, I am a huge fan of getting books into the hands of children and more importantly- something they choose. During class, we as teachers, choose books for students to read for one reason or another. Those books may not always pique the interest of those reading them, so children choosing books they want for whatever reason is a must."
According to Mrs. White, the students love Vendy, and when someone earns a "golden inchy coin," the unique coin used in the vending machine, it is the talk of the school for a while. Mrs. White exclaimed, "it makes me very happy when that talk goes into recess and/or lunch- students talking about a book they chose during recess and lunch- awesome!" However, the students are not the only ones excited about Vendy. Mrs. White says the most exciting part of the book vending machine for her is seeing the excitement on the students' faces when they earn a coin.
Vendy, the book vending machine is a great new addition to the West Branch Community and an exciting way to promote good behavior and reading in elementary students. The members of Warrior Watch want to thank Mrs. White for all her contributions to this outstanding program!
About the Contributor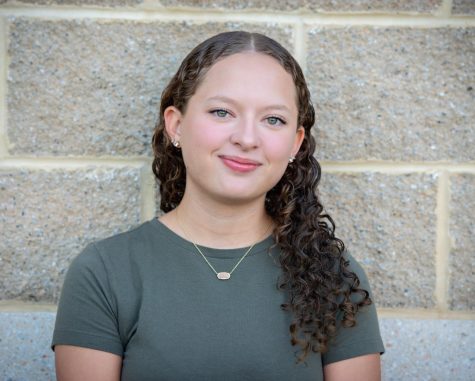 Kinzey Moriarity, Staff Writer
Hi, my name is Kinzey Moriarity! I am a senior at West Branch, and this is my first year participating in Media Arts. Right now, I work at Dunkin' Donuts,...