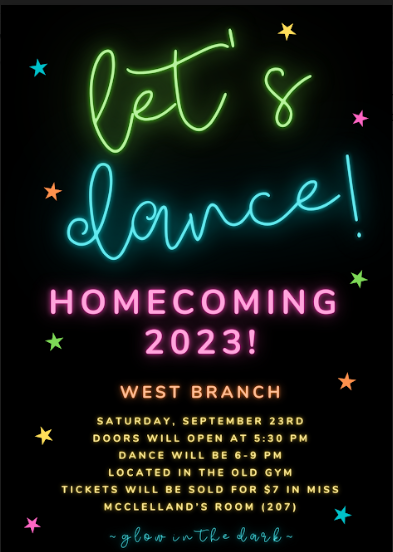 Are you excited for this year's Homecoming festivities? The Student Government Club has decided to make a few changes to Homecoming this fall season. West Branch has decided to switch a few things up this year with new homecoming traditions for the 2023 court. This includes spirit week, the male side of the court, the court size, the football game walkout, and the homecoming dance. 
Starting this week Mrs. McClelland will be sending out voting information for West Branch seniors and teachers to select their five preferred court nominees. Voting for staff and senior class members only will begin Monday the 11th at 8 a.m., and close Wednesday the 13th at the end of the school day. This year, seven male and female students will be nominated to the court for a total of fourteen members. These lucky students will be announced on Thursday the 14th during the school day. The remaining seniors and underclassmen of grades 9-12 will have the opportunity to cast their vote from Tuesday the 19th at 8 a.m. to Thursday the 21st at the end of the school day.
Homecoming spirit week will begin Monday the 18th, and continue through the 22nd on game day. This year's spirit themes are as follows, Monday: Class Colors, Tuesday: Bring anything but a backpack, Wednesday: Barbie Day, Thursday: White Lies T-Shirt, and finally ending the week off with a classic Friday: Red, White, and Blue. 
Friday the 22nd will consist of the traditional West Branch Homecoming Game Pep Rally. Competitive games will be played with the court along with staff members and volunteers. Male members of the court will not be announced during this assembly. This year, the student government club has decided to have both the male and female nominees announced during halftime of the football game. Members will pair up to eliminate the traditional walkout of the female parents and guardians. Payten Johnson says, " I am excited our class has decided to create a more equal way of announcing the Homecoming King. Now future West Branch seniors will get to experience a halftime show with double the excitement." 
After supporting the Warriors under the Friday Night Lights, the Homecoming dance will be held on Saturday the 23rd from 6 to 9 p.m. in the old gymnasium. This year's theme is Glow in the Dark! Ticket sales will start Monday the 11th, and continue through Thursday the 21st. Tickets are seven dollars a piece. Don't forget to visit Mrs. McClelland to get your Homecoming tickets soon!