The Reindeer Games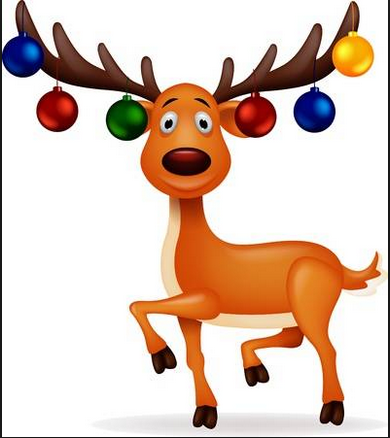 The West Branch Student Government is planning exciting Christmas activities for the students at West Branch. This year they are planning the Reindeer Games, a friendly school competition in which students are involved in various activities. Last year's competition, The Twelve Days of Christmas, was a huge success for getting students to participate in school competitions, charitable causes, and spirit week. Also, these activities got them excited for the upcoming holidays. Student Government hopes for the same student enthusiasm this year.
The Reindeer Games is a two-week competition where Santa, his sleigh, his toy sack, and his nine reindeer will be hidden through the building by West Branch teachers. Each day the students from grades 7-12 will search for the items. If a student has found an item, he or she is to turn in the item to Mrs. Hanslovan in room 157. The amount of points that an item is worth depends on what is it. For example, if the student finds Rudolph, he or she may be rewarded more points rather than finding a regular reindeer. The points are divided by grade, so all six grades are battling against each other. Also, throughout the week, trivia questions will be asked about holiday topics. The first person to answer correctly gets points for his or her grade. Whichever two grades have the most points, in the end, will participate in the Christmas assembly in a holiday relay race, where the two top grades and one group of teachers perform a variety of challenges to be crowned the Reindeer Games Champion.
This year's spirit week, from December 17 to December 21, consists of five school days. On Monday, students can wear Christmas pajamas on PJ Day. On Tuesday, both students and teachers can participate in "It's A Blizzard," where participants come dressed in white, silver or snowflakes. On Wednesday, it's Flannel Day, so bring out your best flannel outfit. It will be Christmas Character Day on Thursday, students and teachers may dress as any character from any book, movie , television show, or Christmas song. Finally Friday, it's Ugly Christmas Sweater and Christmas Sock Day.
Throughout the competition, students can also earn points for their grade by donating to charities. The Student Government has chosen the local food bank and Little Bags of Sunshine as the charities. Students are to bring in materials and items needed explicitly for that charity. The donation boxes are held in different rooms for different grades.
Grade 7 — Mrs. Kennedy
Grade 8 — Mr. Matson
Grade 9 — Mrs. Brickley
Grade 10 — Mrs. Levonick
Grade 11 — Mr. McCamley
Grade 12 — Mrs.Hanslovan
The following items that can be donated for the charities are listed below. All items brought in must be unopened.
Little Bags of Sunshine
Girls-
Fuzzy winter socks/boot socks (one pair) – 6
Ankle or low rise socks (one pair) – 2
Pads  (full box of 35-60; individually wrapped) – 8
Tampons  (full box of approx 34; individually wrapped ) – 8
Soap (travel size) – 2
Shampoo (travel size)  – 2
Conditioner (travel size) – 2
Body Wash (travel size) – 3
Lotion (travel size) – 3
Toothpaste (travel size) – 2
Toothbrushes-2
Deodorant (travel size) – 3
Nail Polish-2
Chapstick-3
Perfume (small size) – 3
Makeup-2
Lipstick-2
Boys-
Crew or boot socks (one pair) – 6
Ankle or low rise socks (one pair) – 2
Soap (full size bar) – 3
Shampoo (full size container) – 6
Conditioner (full size container) – 6
Body Wash (full size container) – 6
Shampoo/conditioner combination (full size container) – 6
Shampoo/body wash combination (full size container) — 6
Toothpaste (full size container) – 4
Toothbrushes-2
Deodorant (full size container) – 6
Chapstick-3
Combs-1
Dental floss-2
Cologne (full size container) -4
Food Drive: All foods must not be expired.
Cereal=7 points
Canned meat=3 points
Canned fruit=3 points
Canned pasta=3 points
Peanut butter=3 points
Jelly=3 points
Instant Oatmeal (box of 10)=3 points
Canned veggies=1 point
Boxed mac and cheese=1 point
6 pack of Ramen=1 point
Student Government hopes to see your school spirit in the upcoming weeks!