Christmas Cookie Recipes

The Christmas cookie poll results are in and the top loved cookies this season are gingerbread, peanut butter blossom, and chocolate chip. Below we have the recipes for these delicious Christmas cookies so you bake them at home and spread the holiday cheer.
Gingerbread Cookies  
delish.com; by Lauren Miyashiro
Ingredients:
3/4 c. (1 1/2 sticks) butter softened    

3/4 c. packed brown sugar

2/3 c. molasses

1 large egg

1 tsp. pure vanilla extract

3 1/4 c. all-purpose flour

1 tbsp. ground ginger

1 tsp. baking soda

1 tsp. ground cinnamon

1/2 tsp. ground cloves

1/2 tsp. kosher salt

1/4 tsp. ground nutmeg
Directions:
In a large bowl using a hand mixer, beat butter, brown sugar, and molasses until fluffy, about 2 minutes. Add egg and beat until combined.

In a medium bowl, whisk flour, spices, baking soda, and salt until combined. With the mixer on low, gradually add dry ingredients to wet ingredients until dough just comes together. (Do not overmix!)

 Divide dough in half and create two discs. Wrap each in plastic wrap and chill until firm, about 2 to 3 hours.

Preheat oven to 350° and line two large baking sheets with parchment paper. Place one disc of dough on a lightly floured surface and roll until 1/4″ thick. Cut out gingerbread men and transfer to baking sheets.

Bake until slightly puffed and set, 9 to 10 minutes, depending on the size of your cookie cutters. Let cool on baking sheets for 5 minutes before transferring to a cooling rack to cool completely.

Repeat with remaining disc of dough. Decorate with icing and sprinkles as desired.
Peanut Butter Blossom Cookies  
pillsbury.com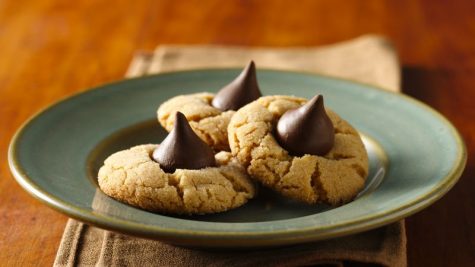 1 3/4 cups all-purpose flour


1/2 cup sugar

1/2 cup firmly packed brown sugar

1 teaspoon baking soda

1/2 teaspoon salt

1/2 cup shortening

1/2 cup peanut butter

2 tablespoons milk

1 teaspoon vanilla

1 egg

Hershey's® Kisses® Brand milk chocolates, unwrapped
Directions:
Heat oven to 375°F. In a large bowl, combine flour, 1/2 cup sugar, brown sugar, baking soda, salt, shortening, peanut butter, milk, vanilla, and egg; mix with electric mixer on low speed until stiff dough forms.

Shape dough into 1-inch balls; roll in sugar. Place 2 inches apart on ungreased cookie sheets.
Bake at 375°F. for 10 to 12 minutes or until golden brown. Immediately top each cookie with 1 milk chocolate candy, pressing down firmly so cookie cracks around edge; remove from cookie sheets.
Chocolate Chip Cookies
2 ¼ cups all-purpose flour

1 teaspoon baking soda


1 teaspoon salt

1 cup ( 2 sticks) butter, softened

¾ cup granulated sugar

¾ cup packed brown sugar

1 teaspoon vanilla extract

2 large eggs

2 cups (12-oz pkg) of semi-sweet chocolate chips
Directions:
Combine flour, baking soda and salt in small bowl. Beat butter, granulated sugar, brown sugar and vanilla extract in large mixer bowl until creamy. Add eggs, one at a time, beating well after each addition. Gradually beat in flour mixture. Stir in chocolate chips. Drop by rounded tablespoon onto ungreased baking sheets.

Bake for 9 to 11 minutes or until golden brown. Cool on baking sheets for 2 minutes; remove to wire racks to cool completely.