Former Teacher Donates Baseball Equipment to South American Country
Gary Miller, a graduate, former teacher, and wrestling coach of West Branch Area High School recently donated a haul of baseball equipment to the nation of Chile. Miller, who now is employed at University Park Airport, often takes flights to various locations around the world. In fact, he once flew to Belgium solely for a Belgian Waffle. Miller and a friend flew to Chile in January to visit the world's largest swimming pool. While at their Courtyard by Marriott hotel, they were having a conversation with some of the employees.
Miller stated, "The employees we were talking to at the hotel happened to be Venezuelan. If you know anything about baseball, you know that the Venezuelans love it. The Chileans, however, do not play baseball. So I told them that I would try to gather up some baseball equipment and bring it down."
Upon arriving home, Miller met with the Assistant GM of the State College Spikes. The Spikes donated buckets of baseballs and 24 gloves. He then met with some local members involved with the sport. Jay Siegel from Siegel Engraving in Clearfield donated four bats and three gloves. Sid Lansberry, the head coach of clearfield's high school baseball team, donated a set of catchers gear and six batting helmets. Gary himself had a set of catchers gear, a number of West Branch baseball hats, and a few more gloves. He also donated some softball bats. Miller was set to fly back to Chile in July.
"I had no idea what I was getting myself into," Miller said. "When we got down there, I was carrying a St. Louis Cardinals bag that the Spikes donated to me. Now nobody knew who I was, but many faces inside the airport in Santiago, Chile, recognized the Cardinals logo on my bag. One of the individuals even asked to get a picture with me."
From the airport, Miller and Mike Cantolina, another West Branch grad who joined Miller on the trip, went to rent a car. The men who helped him at the dealership happened to be Venezuelan. According to Miller, the men were very excited for the locals who would receive this gear. They then went to the hotel, the same one he stayed at in January. He met with Carlos, the same man whom he talked with about his plan in January.
"We gave Carlos the equipment and left for lunch. We got back an hour later, and we could already hear the clinging of the bats. Carlos had gotten enough people gathered up and they were picking teams to play. For some of these people, it was the first time they'd seen baseball equipment, let alone held it," said Miller.
Gary and Mike took five suitcases of baseball equipment down. When Miller got home, he got ahold of Carlos and asked how the donation was being perceived. According to Miller, Carlos had assembled a group of kids and they were planning on going to a field to play a game that day.
Miller added, "The trip was definitely a success. Mike was a big help because he understood some spanish, so he was able to translate some. It was very rewarding in many ways. To see the faces of the Chileans as we gave them the equipment, and to know we were helping introduce this great sport to people was very rewarding. My hope is that the Venezuelans continue to use the resources we provided to introduce it to more and more Chileans."
Miller is possibly planning another trip in January. Along with taking more equipment down, he and some co-workers are also planning on taking a shuttle to Antarctica and sleeping on the South Pole.
If you would like to help donate some equipment, you can contact him on his facebook page, or email me at 200121@westbranch.org. Of all of the gloves he took down, only one was left-handed and one was a catcher's glove.
About the Contributor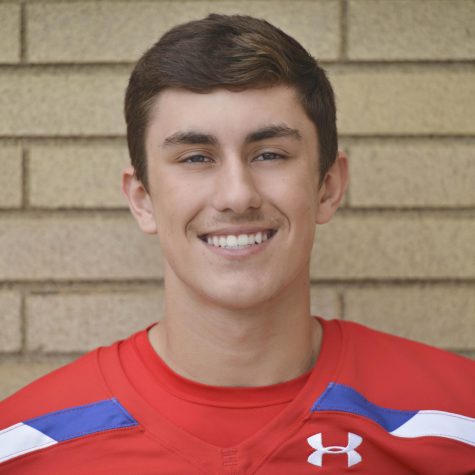 Ayden Gutierrez, Editor-in-Chief

Senior
Quarterback on the Football team
Member of the Basketball and Baseball team
Class President
NHS President
I LOVE sports
I...