New Multi-Media Room
Hang on for a minute...we're trying to find some more stories you might like.
After having a successful and productive first year, West Branch's Warrior Watch newspaper has taken a further step in advancing the program and expanding the newspaper. Towards the end of the 2018-2019 school year, Warrior Watch's advisers, Mrs. Fry and Mrs. Peterson, established an idea after being inspired on a field trip to Tyrone Area High School to learn about that school's newspaper. The adviser of the Tyrone newspaper strongly encouraged Mrs. Fry and Mrs. Peterson to start a class for Warrior Watch's staff to increase the amount of articles produced a week, become better writers, and advance the newspaper in general.
After Warrior Watch became an established class, questions arose like, "Where will this class be held?" and "Who will teach this class?" Mrs. Fry and Mrs. Peterson asked West Branch's superintendent,  Mrs. Dutrow, if the Warrior Watch class could have a room. Mrs. Dutrow liked the idea and designated room 151, formerly the music and chorus room, to be the new multi-media classroom, meaning that not only Warrior Watch but also journalism and gifted classes will be held in 151. Gifted education and Warrior Watch are advised by both Mrs. Fry and Mrs. Peterson. Mrs. Levonick will be teaching the journalism students in the multi-media room as they work on creating the yearbook. Room 151 is a large room with two separate small rooms, S 21 and S 22, attached to it giving Warrior Watch, gifted and journalism teachers enough space to achieve their individual class goals.
Over the summer a large table with several soft office chairs, as well as several individual teacher desks that were designated to the authors on the newspaper, was moved into the multi-media room. Also, Warrior Watch plans that the S 21 small room will become the broadcasting room. This means that eventually Warrior Watch may do morning announcements live from the broadcasting room with high-tech cameras, lighting, and sound. Also this room will include a green screen. The gifted students, however, who are using the multi-media room will use the S 22 room as their gifted area to pick up assignments and work on projects to expand and enhance their education.
This room is fairly empty at the moment since these programs are just establishing the space, but with some furniture and decorations, room 151 should be a sophisticated, colorful, and welcoming room for Warrior Watch authors,  journalism students, and gifted kids.
About the Writer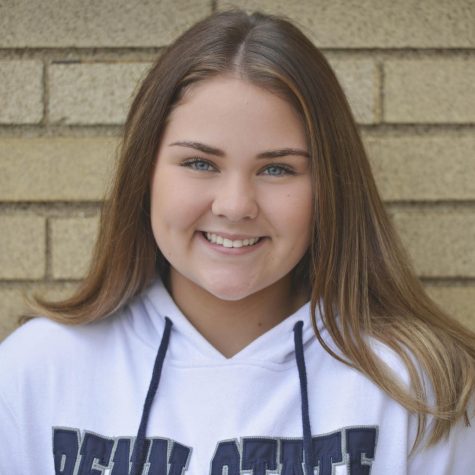 Eleyna Hanslovan, Staff Writer
I am a sophomore at West Branch High School. I am the center mid-fielder and center defender for the varsity soccer team. I am also involved in student...