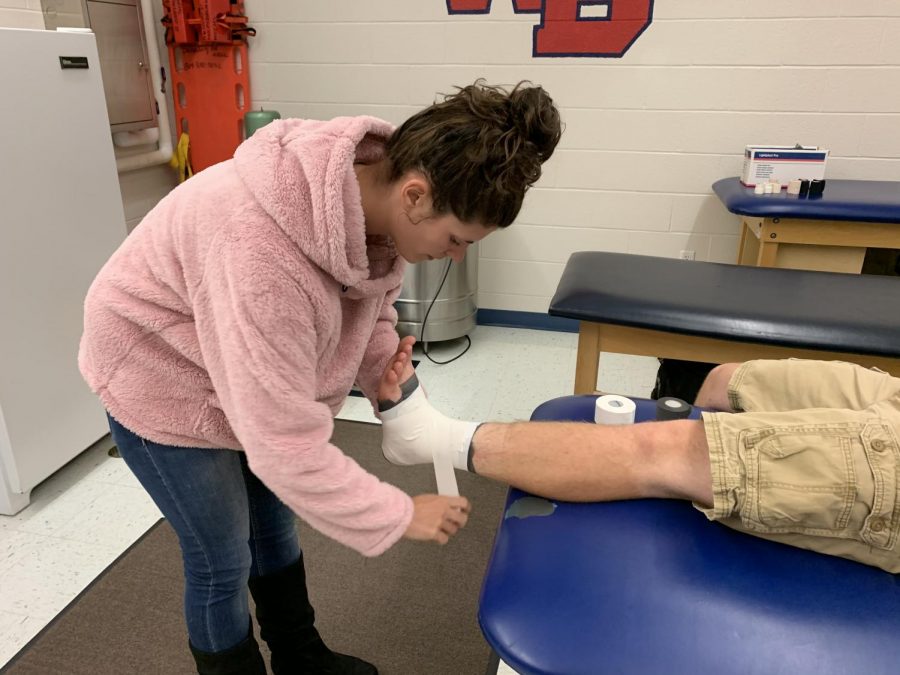 Image/Graphics by Photo taken by Kaitlyn McGonigal
Staff Member of the Month
October 26, 2019
Athletic trainer Ashlee McQuown has been chosen as Warrior Watch's Staff Member of the Month for October. She is known by the student body for her hardworking and caring personality, as well as her ability to facilitate injured athletes. Athletic trainers often go unrecognized for the difficult tasks they must undertake each day. After having a sports injury herself, she aspired to be as dedicated as the athletic trainers from her former high school Glendale. As McQuown faced West Branch in various athletics as a teen, she knew how sport-oriented the community is. She has been serving as the athletic trainer at West Branch for ten years. McQuown says the biggest highlight and motivation of her career at West Branch is "watching student-athletes succeed." Over many years, students have gained a strong bond with their athletic trainer.
Chance Eboch says he appreciates McQuown because "She's chill and she loves the West Branch Students."
Briana Bone agrees: "Ashlee has a great personality."
Eddie Dale shares that "she's very careful in everything she does and seems to care a lot about everyone who has an injury."
Kyle Kolesar says, "She is nice and respects us."
Samuel Fry says he admires "her good commitment to being prepared at our football games."
Ella Miller explains, "Having a trainer as good as Ashlee is like having a friend. She is so easy to talk to and having a trainer that is easy to communicate with is such an amazing thing that many other schools don't get to experience. All the athletes at West Branch are beyond lucky to have her."
Much appreciation and thanks go out to Ashlee McQuown for everything she does for the students, faculty, and staff at West Branch!