West Branch Basketball Remembers Kobe
The start of 2020 has been filled with tragic news, and Sunday didn't get any better. Los Angeles Lakers legend Kobe Bryant and his daughter Gianna were among seven others that were involved in a helicopter crash that took all nine lives. Kobe and the others were en route to his daughter's travel basketball game when the helicopter struck down in Calabasas, California. Bryant was 41 years old, while his daughter was just 13.
Kobe went to high school in Philadelphia, Pennsylvania at Lower Merion High School. He went on to the NBA straight out of high school and was selected in the first round by the Charlotte Hornets. He was traded to the Lakers on draft night, and the rest is history. He will be remembered as a tremendous basketball player, but he was involved in so much more than basketball. He won an Oscar Award for the best animated short film in 2018 with his project, "Dear Basketball." You can watch a clip of this film being shown in Staples Center on the night that Kobe's #8 and #24 were retired at the beginning of the article.
Kobe was very involved with his daughter Gianna's basketball. He went on the record multiple times stating how much he loved coaching her. The Twitter world was buzzing just under a month ago when Kobe and Gianna were sitting courtside at a game in Brooklyn and Kobe was pointing out things on the court to her. He also created the Mamba Sports Academy, a training center in Thousand Oaks, California.
The 'Mamba' made an impact on millions of people across the world. A handful of basketball players at West Branch gave their input on how Kobe impacted them.
Doug Kolesar said, "Kobe inspired me to never give up, and that in the end basketball is just a game. I've worn his shoes since elementary, but not because of the style, but because of the person he was. He will be missed."
Sarah Betts, a starter on the girls team, admired how he didn't just work to grow the men's game, he deeply cared about growing the women's game as well.
"I saw a couple of videos about how his daughter would tell people that she was going to carry on his legacy, and that saddens me," Sarah stated. "He inspired so many people to become great on and off the court. It wasn't just the guys, he inspired girls to be great too. He for sure was taken from us too soon."
Trenton Bellomy mentioned, "I was shocked. I couldn't believe the news when I saw it. He had such a huge impact on the game as a whole, including myself. Truly a sad day for sports."
I myself play basketball, and we had just finished practice when we all found out about his death. We were all clowning around and carrying on when somebody yelled, "Yo, Kobe just died in a plane crash." Obviously, when you hear a statement of that magnitude, you're thrown off. I yelled back, "Stop playing with us." However, about four of my teammates had run to their phones and were all quoting Adrian Wojnarowski, ESPN's Senior NBA Insider. For those of you who don't know, 'Woj' as he is known by millions is the reporter who tweets all of basketball's breaking news. So when Woj says something, it's true. I couldn't believe it. I ran to my phone and saw for myself. I was at a loss of words. The mood of our entire team instantly dropped. For nearly a minute nobody said a single word. That's how significant of a role model Kobe Bryant was.
That is why I cherish sports so much. The joy you get in watching the greatest in the world play a game, the agony you feel when watching your team fail, and the way that it brings people together. In sports, there is no black and white. There is no American versus Hispanic. In sports, you have a group of people working together to reach a common goal. And finally, sports allow us to celebrate together and mourn together: And today we mourn.
As they say, Heros are remembered, but Legends never die. Kobe may have left this Earth, but the impact he made on millions, as well as his legacy, will live eternally. Rest in peace, Kobe.
About the Contributor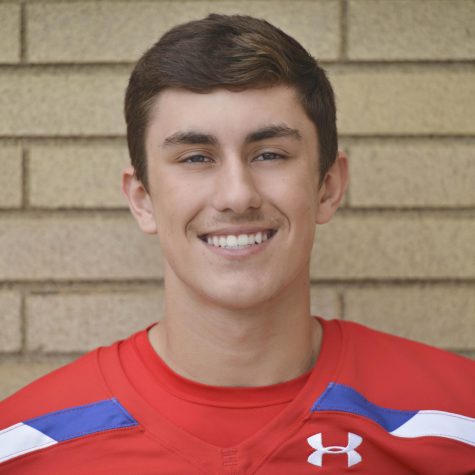 Ayden Gutierrez, Editor-in-Chief

Senior
Quarterback on the Football team
Member of the Basketball and Baseball team
Class President
NHS President
I LOVE sports
I...