Alumni Watch: Marva King
High school graduation is the start of independence and accomplishment for young adults and an opportunity to embrace the aspects of life on their own and achieve any personal goals they have set for themselves after high school. For some people, this may mean pursuit of a medical, business, or culinary career. Marva King, graduate from 1987,  pursued a career in finance and has been working since graduating from high school 33 years ago.
King graduated from West Branch at the age of 17, not knowing yet what she wanted to be. Originally, King was hired to be a receptionist at a brokerage firm in State College where her only job was to answer calls and greet people. She had no interest in being a receptionist long-term but needed a job and that position was available. However, during her employment there, she got introduced to jobs in finance and realized that she found the finance and business field interesting and intriguing.
King, after realizing that a job in finance was for her, first started out at the company Legg Mason Wood Walker where she worked for nine years as a branch office coordinator and sales assistant. On top of learning more about finance and business at Legg Mason Wood Walker, King also met her future business partner Bruce Vinion while working there. She and Vinion relocated to several large companies in the next twenty years, including Morgan Stanley Financial and a business where they worked along side Merrill Lynch. They worked at these place for roughly 30 years.
King and Vinion, 30 year co-workers, decided in 2016 that it was time for the two of them to branch away from large business and establish their own unique and personal establishment. Therefore, VK Wealth Advisors was created in 2016 by both King and Vinion. The V stands for Vinion and the K is for King. King is now currently the COO of her company, as her partner is the CEO. King says that her favorite part of working at VK Wealth Advisors is that she is her own boss. She can work from home and manage her schedule based on her out-of-work life very efficiently. King noted, "I love to help clients reach their financial goals and hope to make a difference in their life.  Most people worry about running out of money and I like to come up with solutions to help ensure that does not happen.  I love to help with building their wealth as well.  Some people think you need to have lots of money to invest whereas that is not the case.  We have clients that invest as little as $50 per month to get introduced to investing."
Outside of her busy and much-enjoyed career, King loves to read, travel, cook all kinds of food, ride ATVs, and spend time with the family. King is a wife, mother of two, and a grandmother. She says that those roles are the "best accomplishment yet."
About the Contributor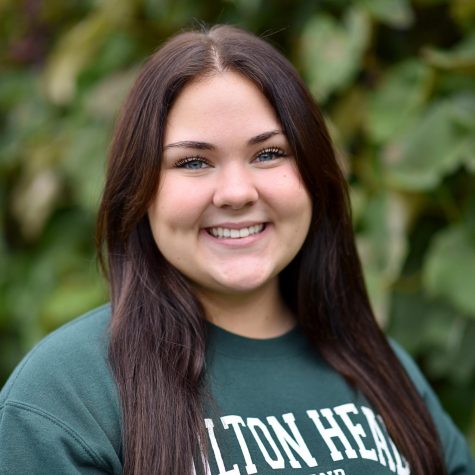 Eleyna Hanslovan, Editor-in-Chief
Hi, my name is Eleyna and I am a senior at West Branch High School! I am a center defender for the varsity soccer team and I participate in throwing events...