Staff Member of the Month
The Warrior Watch has chosen Sue Folmar for Staff Member of the Month of March. Ms. Folmar is the high school and middle school library clerk at West Branch. She has been at West Branch for 21 years, and the community is thankful for all of her hard work.
Ms. Folmar is an alumnus of West Branch, from the graduating Class of 1993. As a student, she participated in many activities such as Newspaper, Ski Club, Honors Society, Students Against Drunk Driving (SAD), and Band. Following high school, she attended Lock Haven University with the intent to work in Secondary Education. Ms. Folmar was taken down a different path and began her library work at Holt as the Youth Services Coordinator. Ms. Folmar came back to her home community to work as a substitute at West Branch in 1999.
As a library clerk, Ms. Folmar has a different agenda each day. She says, "no two days are the same". Most days she works with book circulation and the Accelerated Reader Program. She also supervises the students who work in the library during school. She says, her favorite part of working as the library clerk at West Branch is "the students and being in the library with little pressure." She also has challenges in her work, such as difficult computer systems, and getting students to return their books on time.
Ms. Folmar is the mother of two children, Sierra and Steven. In her free time, she enjoys reading. Some of her favorite books include To Kill a Mockingbird and The Last Lecture. Mrs. Folmar recommends, "reading is good for empathy, and learning about situations uncommon to the area."
Some appreciative words from the students:
Eddie Dale says, "she is the friendliest and most hospitable person you will ever meet. Every day she's in the library with welcoming arms to all students."
Thomas Kovalick explains, "Ms. Folmar is very courteous and wishes everyone a nice day when we leave."
Destiney Koppenhaver states, "I like how Ms. Folmar is determined to keep her library organized."
On behalf of the community, a huge thank you and much appreciation is sent to Ms. Folmar for all of her hard work and dedication to West Branch!
One of Ms. Folmar's favorite quotes:
"I may not have gone where I intended to go, but I think I have ended up where I needed to be." -Douglas Adams
About the Contributor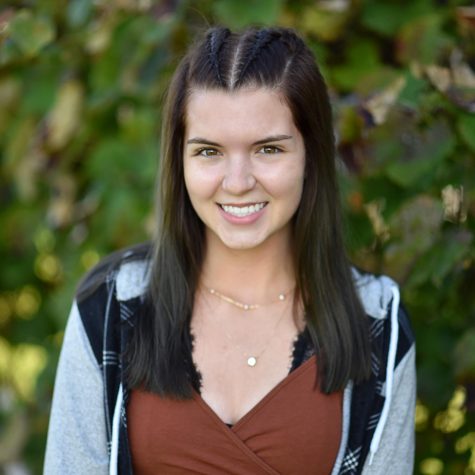 Kaitlyn McGonigal, Staff Writer
Hi, my name is Kaitlyn McGonigal. I am currently a junior at West Branch Area High School. I am involved in softball and Warrior Watch. I hope you enjoy...