Lady Warrior Volleyball: COVID-19 Edition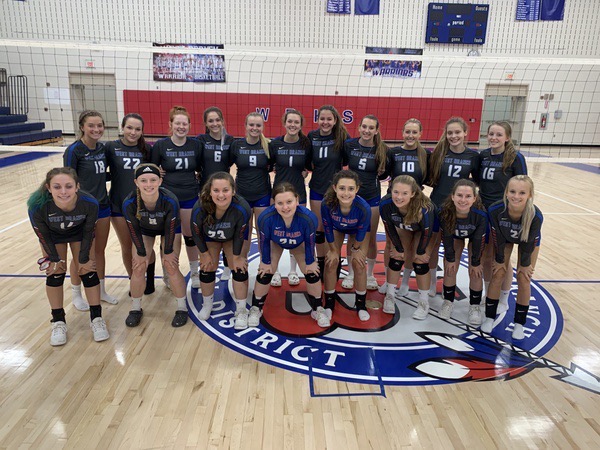 This year's upcoming volleyball season will see changes from previous years. With COVID-19 concerns in mind, the team faces some new difficulties; however, this is not going to stop the Lady Warriors from earning a spot in the district playoffs.
After losing two seniors from last year's roster, the West Branch Volleyball team still has a great amount of talent. Morgan Glace, Emma Morlock, Corrin Evans, Taylor Myers, Ella Miller, Meghan Cantolina, Abby Gallaher, Kamryn MacTavish, Hayley Wooster, and Savannah Hoover are the ten returning letter winners from the previous season. With only six players allowed on the court along with one player on the bench, each player is working extremely hard to earn a starting position. Head coach Terry Trude believes there is "a great amount of talent within this team," and that "a final line-up as yet to be decided." 
Although the players were unable to attend camps during this difficult time, Coach Trude still expects results this year, considering the amount of work that has been put into the offseason. Having earned the Inter-County Conference championship title for eight years in a row, the Lady Warriors have set high standards for the 2020 volleyball season. 
Slight changes have been made to this year's schedule, but the Lady Warriors will begin their season on September 5th scrimmaging Philipsburg-Osceola. The team's official games will start on September 14th at Central Mountain High School. 
Seniors
9   Morgan Glace (Setter) 
10 Emma Morlock (OH)
1  Taylor Myers (MH)
16 Corrin Evans (OH)
7   Ella Miller (D.)
Juniors
18 Meghan Cantolina (OH)
5   Abigail Gallaher (MH)
Sophomores
2  Megan Glace (Setter)
8  Kamryn MacTavish (OH)
6  Hayley Wooster (OH)
23 Matayha Kerin (MH)
20 Savannah Hoover (DS)
11 Cassidy Frey (D.S)
14 Tayla Dorbolo (MH)
Freshman
21 Brooklyn Myers (Setter)
15 Ally Shingledecker (MH)
33 Katrina Cowder (MH)
22 Shianna Hoover (DS)
13 Marley Croyle (OH)