Cyber School
As we all know, the Covid-19 pandemic has caused a lot of changes in every aspect of our lives. When West Branch began preparing for the 2020-2021 school year, students from Pre-K to 12th grade were given the option to enroll in the WB cyber program instead of in-person school. 
The administration expected an increase in students going cyber, but what they didn't expect was how MUCH enrollment increased. The cyber program is normally offered to students in grades 7th-12th and has an average of 12-15 students a year; however, because of the pandemic, the program opened up to offer the entire district the opportunity to enroll, and the number of students that decided to try out online learning rose from just 15 to over 150. The increase in students has caused the administration to enlist the help of teachers and staff at WB to teach classes, monitor the progress of students, provide help with technical and academic support, and record attendance for cyber students. Mrs. Porter oversees the cyber program and has explained how it works: "Students are assigned core and elective classes (depending on grade level), just like they would here in the building. Everything takes place virtually and other than Math, PE, and a few elective courses, the cyber courses are taught by teachers who are not employed at WB. Students log on daily, complete their assigned work, and attendance is mostly monitored according to lesson completion for the week." She added that there have been several challenges this year, but the program has been getting better as teachers and students adjust.
Joelle Fletcher is a sophomore who chose to enroll in the cyber program. She says the transition from in-person school to cyber was actually quite easy, "It's made me a lot more organized; everything is in documents so there are no papers to worry about losing, and I don't have to wake up early to catch the bus." Joelle also has two younger sisters who are cybered and she has essentially become the one who oversees their work and helps get homework done. Joelle says "I am fine with helping them but sometimes they just expect me to tell them the answers and that's not how it works in a school, so I have refrained from doing that as much as possible. Being the oldest one of three, it can sometimes be as if I have all the responsibilities and making sure the younger two get their stuff done while also doing mine."  Not everyone who chose to start the cyber program felt that it worked for them. Kailey Frank, a junior who started the year virtually, went back to in-person school just two weeks after school started. Kailey chose to begin cyber because she didn't want to risk getting Covid-19 but says not having the socialization of being around other students and the way the program is set up is what brought her back. Many students also just chose to do in-person school from the very beginning. Senior Rachael Kyler says that while the new rules are different, what made her decide to stay in-person was being around her peers. "The only rule that is hard to follow is social distancing because everyone wants to be around each other," Rachael said.
About the Contributor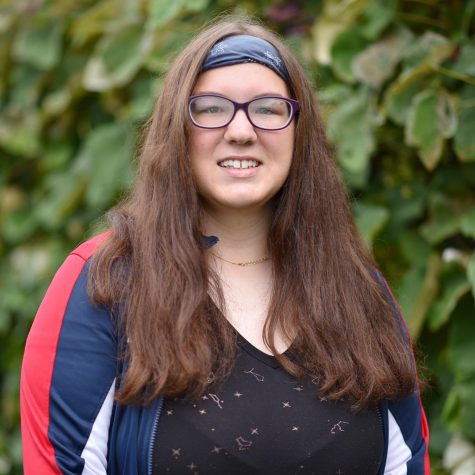 Maya Raab, Staff Writer
Hi, my name is Maya Raab. I am a senior at West Branch. I am involved in chorus, marching band, and I'm a band front captain. In my free time, I like...