Warriors Win Comeback Victory Against Glendale Vikings
West Branch, still fighting to turn their season around, hoped to get a win against playoff qualified Glendale Vikings. The Warriors won 34-31 against the Vikings while trailing 7-24 at the half.
The game started with the West Branch Warriors kicking off to the Glendale Vikings. The Vikings scored a touchdown on a toss, getting a 50-yard rushing touchdown; 0-7. The Warriors responded by driving down the field and scoring on a 3-yard reception to Owen Graham; 7-7. The Vikings scored on a reception, but the Vikings extra point was blocked by Ethan Yingling, giving the Vikings the lead; 7-13. On the return, the Warriors returned the ball to the Vikings 40-yard line, but the drive ended as the Warriors failed the fourth-down conversion, giving the ball back to the Vikings. The Vikings then scored and made the 2-point conversion off of an option; 7-21. The Warriors punted the ball after a three-and-out and the Vikings scored a field goal as time expired. End of half: 7-24.
At the start of the 2nd half, the Warriors received the ball and drove it down to score with a run by Will Herring, but missed the extra point attempt; 13-24. The Warriors received the ball after the Vikings failed a 4th down conversion. The Warriors scored off a 13-yard rush by Will Herring, completing the 2-point conversion; 21-24. After receiving the ball, the Vikings got held up and elected to punt the ball back to the Warriors; the Warriors did the same thing after failing to pick up the first down and the Vikings returned the punt all the way to the 15-yard line. The Vikings scored but failed the 2-point after a penalty; 21-30. The Vikings then squibbed kicked the ball and after it was bobbled was recovered by the Vikings, who punted on fourth down. The Warriors drove down the field then scored off a 20 yard run by Will Herring, missing the Pat; 27-30. The Vikings punted the ball after getting stopped. The Warriors then scored off of a three-yard run by Tyler Biggans, making the Pat; 34-30. The game was sealed after a Camden Kopchick interception, causing a touchback. 
Camden Kopchick stated that "he saw the ball get thrown up and tried to make a play." The Warriors then kneel the ball after getting the touchback, winning the game as time expired.
West Branch      7    0   14  13
Glendale            13   11   0    6
About the Contributor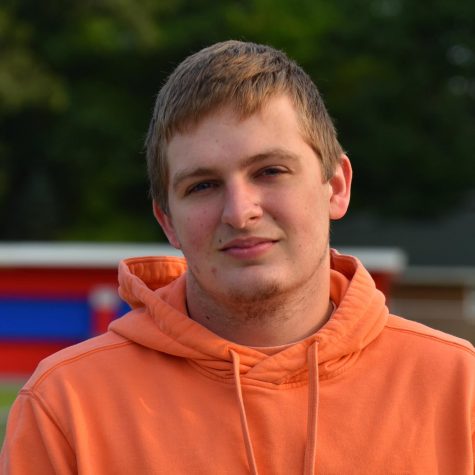 Kayden Grubbs, Staff Writer
Hello, Warriors! My name is Kayden, and I'm a senior. I play football and want to be a software engineer.