West Branch Volleyball Season Review: Senior Edition
The 2020 graduating class of West Branch includes five extremely talented and well-rounded volleyball players. Throughout the last four volleyball seasons, this group has set an incredible example for seasons to come. This year's seniors include Taylor Myers, Ella Miller, Morgan Glace, Emma Morlock and Corrin Evans. The five seniors finished their final season with an astonishing record of 21-2, continuing the volleyball legacy that has been an ongoing accomplishment in West Branch sports for decades. This season, in particular, was very successful because the girls made it to the District 6 championship game for the first time in three years. "They are great leaders and all of the other kids want to be what those five seniors have been a part of," says head coach Terry Trude. 
The seniors also ended this season with incredible statistics which will be addressed individually.
Taylor Myers, a very successful middle hitter and blocker, ended her final season with a wide range of impressive statistics. She also places in the top three best hitters in West Branch history. Myers led the team in aces, kills, and blocks. She totaled 174 service points this season, including 51 aces. Many of those aces and points are from games in which the team was falling behind and Myers stepped up to the service line and brought the team back. She also racked up 295 kills this season, as well as 44 blocks. Clearly, Myers was a strong addition to the team's front row. She also shined in the back row this season, tallying 156 digs. "I will miss each and every one of our seniors and I hope they continue to do great things. This was by far my favorite season and I am going to miss playing volleyball for West Branch," said senior Taylor Myers. 
Ella Miller ended her senior season known as one of the greatest passers in West Branch volleyball history. Miller earned the libero jersey as a junior and continued impressing her team, coaches, and parents up until her final game. She was also a great serving component to the team this season, achieving 130 service points, including 22 aces. Miller held one of the highest serving percentages on the team in her final season. She also led the team in digs with 182, which is an amazing accomplishment for any volleyball player. Miller says, "It wasn't about winning. Volleyball with us was about the memories and friendships that will last a lifetime."
Morgan Glace finished her final season as one of the top three best setters in West Branch history. This season she achieved her 2,000th assist, which happened to be one of her biggest goals as a setter. From the service line, Glace racked up 180 service points, along with 32 aces. She trailed Miller in the highest service percentage on the team. Glace also ended her final season with 703 assists. She was also a beneficial part of the team's defense this season, tallying 122 digs. Glace says, "I couldn't be more proud of the players we have become over the last four years. I will forever cherish the friendships and memories I have made through volleyball."
Emma Morlock finished her senior season as another incredible offensive and defensive component of the West Branch volleyball team. She was a great asset to the team in multiple aspects, including serving, hitting and passing. Morlock wrapped up her final season with a total of 180 service points, as well as 41 aces. She had many long service runs when the team needed it the most. Emma also racked up 143 kills from the outside position this season. Not only did she put balls down, but she was also great at digging up the other team's hits every single game, achieving 171 digs. "I am so blessed to have had the opportunity to play a sport I love so much, as well as creating amazing friendships and memories I will admire forever," says senior Emma Morlock. 
Our final senior, Corrin Evans, was also an amazing component both offensively and defensively this season. Evans was a right-side hitter, which takes a lot of talent as it is a very tough position to play. From the service line, she achieved 117 service points, including 14 aces. Evans also had long service runs when the team needed it most. Offensively, Evans was always using her volleyball skills, finding incredible locations to put the ball down in order to get the kill. She tallied 48 kills this season from her position in the front row as well as 13 blocks. Evans also added 65 digs from the back row. "We five seniors not only worked together for a great volleyball reputation, but also created a bond that can never be broken," says senior Corrin Evans. 
These five volleyball seniors have accomplished so much in the last four years. Taylor Myers, Ella Miller, Morgan Glace, Emma Morlock, and Corrin Evans will be greatly missed by the volleyball community next season. Congratulations, ladies, on your incredible accomplishments. 
About the Contributor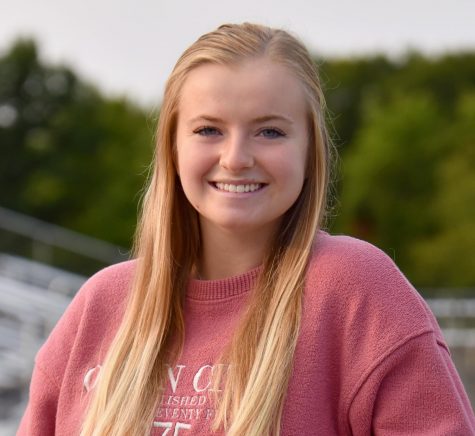 Morgan Glace, Staff Writer
Hello! I am Morgan Glace and I am a senior at WB. I am a student-athlete, taking part in both softball and volleyball. I am the starting setter as well...