New Faces To West Branch Cheerleading
The year 2020 brought many changes all around. Early in the school year, the West Branch Cheerleading squad lost their varsity coach, so Heather Dobo was selected to fill the position. Heather brings six years of cheerleading experience to the team. She also cheered competitively for one year. Heather was a part of the Youth Warrior Cheer program for about three years. When asked about why she wanted to become a coach, Heather said, "I love cheer, I love coaching, and I really enjoy the experience of working with the cheerleaders." In the future, she is hoping that they are able to gain more interest back to the program so that they can have three squads: varsity, junior varsity, and junior high, again. One of her goals includes hoping to take the squad to the state championships in the future.
Mallarie Maines joined the cheerleading staff at the beginning of the 2020-21 school year as Junior Varsity Coach. She is a familiar face, as she graduated from West Branch in 2019. Some of the reasons that she became a coach are that she loves cheerleading and she wanted to coach something that was familiar to her. Mallarie brings seven years of both competitive and spirit cheerleading experience to the program. She also competed at the state championships in Hershey twice on the Warrior Cheer squad. Mallarie said that one of her goals for the program in the future is "to have a bigger squad, ending up having 12 to 14 girls on each squad: junior high, jv, and varsity."
Last month, a new Junior High Cheerleading Coach was added to the program. Julie McDowell is also a West Branch alumnus. She assisted with the Youth Warrior Cheer program for five years and was a head coach for two of those years. One of the things that Julie feels is very important to the program is to make sure that the girls keep their Warrior spirit and pride. She is also hoping to encourage more girls to have an interest in joining the squad. For this year, she wants to accomplish a full season. "Covid is really putting a damper on our schedule and everything so we are really excited to be here and to be able to cheer…"
The West Branch Cheerleading squad is excited to welcome these new coaches to the program. We can't wait to see them achieve their goals and bring more school spirit to the squad.
About the Contributor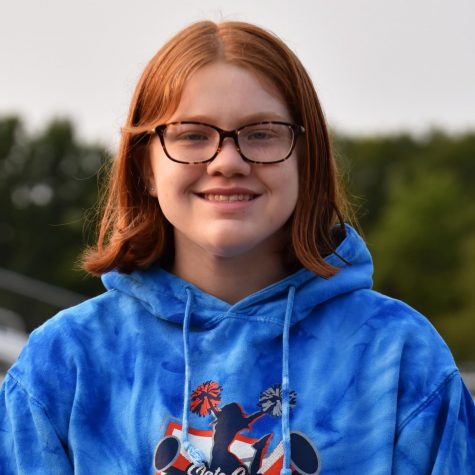 Addison Yatchik, Staff Writer
I am Addison Yatchik and a freshman at West Branch. I am involved in drama and I am a silk in the marching band. I am the youngest of three sisters and...