Warriors Fall to State-Ranked Brookville
The Warriors, coming off a nice 3-day break, got back into action against a state-ranked team in Brookville. The Warriors knew coming into the game that it was going to be a battle. With harsh weather conditions on Monday, the Warriors weren't able to practice then. Because of that, they were unable to go through their game plan for the game against Brookville.
Brookville, the Raiders, wasted no time getting an early lead on the Warriors. Fast breaks killed the Warriors early on in the first quarter. The Raiders had a pretty good 20-point lead going into halftime. No matter what defense the Warriors decided to do (3-1 chaser, box and one, 2-3, 3-2, or a 1-3-1), the Raiders had an answer. Every possession for the Raiders ended in a high-quality shot or a big second-chance bucket. 
The second half for the Warriors was better than the first. Shots were falling and the Warriors were playing some stellar defense. In the end, a good offense always beats a good defense. The Warriors did a fantastic job keeping the game within 20 points. At no point in the game did the audience think the game was going to be a blowout. In the second half, the Warriors limited the Raiders' fast-break opportunities by hustling back on defense after a missed shot. 
The Warriors had four players scoring double digits. Travis Rothrock led the way with 15 points, followed by Trenton Bellomy with 13. Zack Tiracorda and Kyle Kolesar both ended the game with 12 apiece.
Final Score: 84-61, Brookville
Team Records: Brookville (14-1) Warriors (8-4)
About the Contributor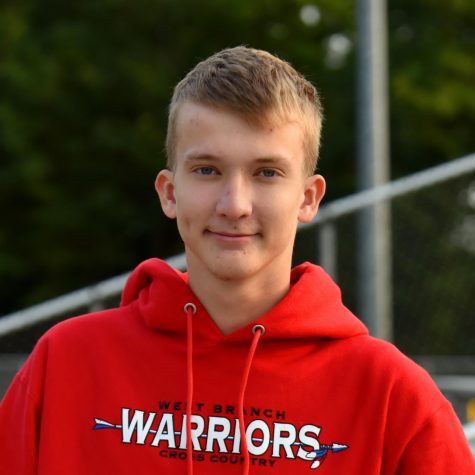 Doug Kolesar, Staff Writer
Hello, my name is Douglas Kolesar and I am a senior student-athlete. I run cross country, play basketball and baseball here at West Branch. I led the Progressland...