Staff Member of the Month – Jennifer Brickley
The Staff Member of the Month for the month of May is Jennifer Brickley. She is a Social Studies teacher and the Senior Class Advisor at West Branch. Jen has been a diligent and caring member of our staff for over 19 years now. Warrior Watch recognizes her contributions to WB over the years, especially most recently since struggling with COVID-19.
Mrs. Brickley is a West Branch alumnus from the class of 1990. In High School, she was a member of the band, chorus, SADD, the softball team, NHS, P.A.L.S., 4-H Club, and 4-H Teen Council. Post-graduation from WB, Jen attended Penn State University to become a veterinarian. After a year, she switched majors and went on to attend Lock Haven University from 1991-1994. Jen worked as a substitute teacher at WB for three years after she received her degree at LHU. Before being employed at WB, she also taught at Wrightco Technologies, working with telephone, security, and other system installation. Mrs. Brickley has been a teacher at WB since 2002.
"
Don't take yourself too seriously! Dare to be different!"
— Jennifer Brickley
Growing up, Jen had two special mentors in her life: her mom, Gail Ohl, and her 10th grade American History teacher, Carlene Pearce-Houston. She explains the significant role that her mom plays, being the biggest supporter in her life and her rock when she feels weak. Carlene Pearce-Houston, who was also the 4-H club leader, was the main inspiration for Mrs. Brickley to become a teacher. She showed Jen how to dedicate and understand for the students. Now that Mrs. Brickley experiences working in a school environment, she has her own challenges and highlights. Although she has to deal with the struggles of politics and heavy paperwork, Jen continues to put her effort and care into students at WB.
Throughout all her years of teaching, Mrs. Brickley says that one of her favorite moments of her career was when she taught summer school. She told about how she tutored a student struggling with math, explaining concepts in a way that he could understand. At the end of summer school, the student brought her flowers. With the help of Mrs. Brickley, the former student is currently working as an electrician. 
Outside the walls of WB, Jen also works several part-time jobs. She prepares tax returns for her mother's business, is a Hostess at The Garden Restaurant, and works at the Nittany MinitMart. When she is not working, Jen spends her time reading, camping, taking care of her animals, and supporting her daughter, Vesta. The Brickley's have three horses, one dog, and twenty-one cats. Their family rescues kittens and keeps those who are unable to be rehomed. Mrs. Brickley and Vesta also have a passion for horseback riding.
Warrior Watch acknowledges Mrs. Brickley for continuing to persevere despite COVID-19 and her busy home life. Congratulations and thank you for everything you do for our community!
About the Contributor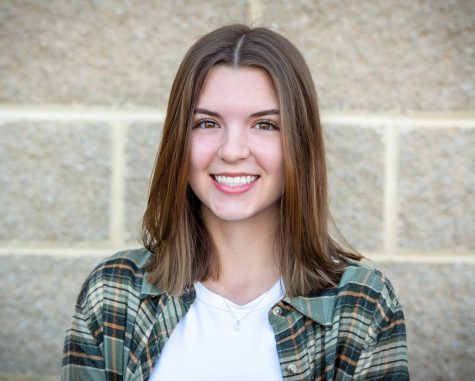 Kaitlyn McGonigal, Editor-in-Chief
Hi, my name is Kaitlyn McGonigal. I am currently a senior at West Branch Area High School. I am involved in Student Government, The National Honor Society,...