Lady Warriors Volleyball Show Up for Their Opening Game
Terry Trude starts his 26th year of coaching with a win
On Thursday night, the Lady Warriors defeated Williamsburg in three easy sets: 25-4, 25-5, and 25-4. 
Because of the success shown in the first sets, Coach Trude allowed the seniors to get the chance to try different positions. Meghan Cantolina, outside hitter, had 9 kills. Cantolina reflected on the change and gave her all to show she was able to play multiple positions and received a kill in the middle position. While senior Abby Gallaher, middle hitter, had 7 kills. Katrina Cowder had 5 kills, 9 service points, with 2 being aces. This brings Lady Warriors setter, Brooklyn Myers to receive 18 assists. Matayah Kerin had 23 service points with 12 of those being aces. Adding 11 service points, Savannah Hoover also had 3 aces. Kamryn Mactavish got 8 service points with 4 of those being aces.  
On her last first game, senior Meghan Cantolina said, "Having announced that we are #2 in the state gave me chills; it's an amazing accomplishment. It was a good first game for our team. We started out strong and had a loud student section that helped the game be fun."
Meghan also said, "Normally when we play a team with a lower skill level than us, our team lowers their level too, but last night we played good and didn't let it bother us."
About the Contributor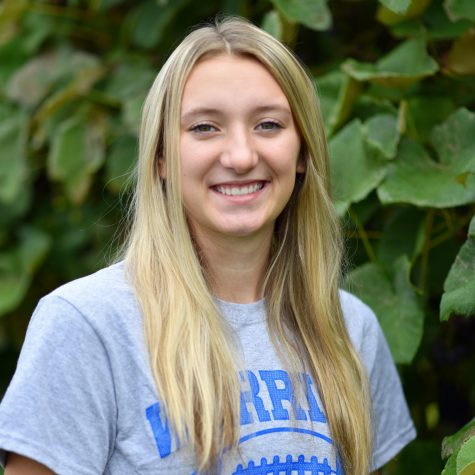 Abby Gallaher, Staff Writer
My name is Abby Gallaher, and I am a senior. I participate in our school's volleyball and track and field team. Out-of-school activities that I also take...