Beetlejuice, Beetlejuice, Beetlejuice.
The Warrior Band puts on an interesting and fun Beetlejuice halftime show.
The Mighty Warrior Marching Band is set to do their fourth show of their Beetlejuice halftime show during the football game against Moshannon Valley on Friday night (9/17). The Warrior Band is under the direction of Drum Major Carrie Fuller, Assistant Drum Major Kayleigh Smeal, Band Director Mr. Jones, and Band Front Advisor Mrs. Bell. Inspired by the Tim Burton film, Beetlejuice, Mr. Jones chose several songs that fans should recognize instantly.
The band's first song is the Danny Elfman Opener, composed by Danny Elfman and arranged by Michael Brown. The Danny Elfman Opener song is a unique song that won't be heard anywhere else this year. With very unique woodwind and low brass parts, this song will have spectators screaming "Beetlejuice" three times.
The band's second selection, "Day-O (The Banana Boat Song)", is composed by Harry Belafonte and arranged by Adam Bukosky. Day-O is a band-front feature and features a baritone-trumpet duet in the beginning. With an overall fun and swinging tune, this song will have fans possessed and dancing in the stands by Beetlejuice himself. 
The band's final song is "Jump in the Line", originally composed by Lord  Kitchener and arranged by Jeff Simmons. "Jump in the Line" is a fast paced song with many fun brass parts in the song. With swinging rhythms, this song will have everyone jumping in the line and dancing the night away. 
DM Carrie Fuller elaborates on this year's halftime show: "This year's show was not an easy one to pull off and watching the new members learn and grow not only as musicians, but as people, was really awesome to see." 
Senior Band Members:
Drum Major — Carrie Fuller

Honor Guards — Maya Raab, Khandyce English 

Majorette — Gretchen Yatchik 

Silks — Breanna Thompson

Trumpets — Noah Fry, Elijah Corle, and Brandon Woods 

Low Brass — Olivia Blasko and Brendan Zetts 

Clarinets — Alaina Gormont and Vesta Brickley 

Piccolo — Rylee Sabol
About the Contributor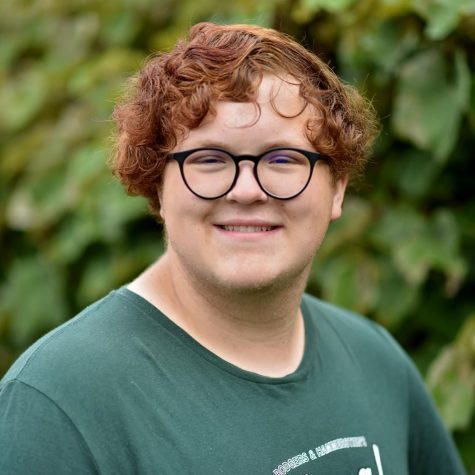 Brendan Zetts, Staff Writer
I'm Brendan Zetts and I am a senior at West Branch.  I am involved in are drama, chorus, concert and marching band. My future plans are to go to college...