PO Boys Score Redemption Against Clearfield
The Mounties add another win to their record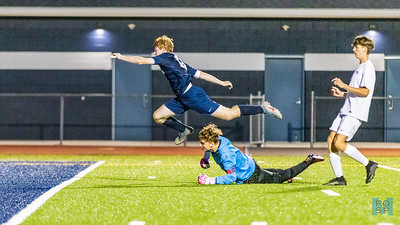 Philipsburg- Wednesday, September 29th the Philipsburg-Osceola boys soccer team took on Clearfield with a 3-0 win. Previously this season, the boys took on Clearfield in a heated game and a loss for the Mounties. Both teams are skilled and strong, bringing competition to the field. 
The Mounties kept possession throughout the entire first half with many close shots. Ashton Crownover, a senior for the Mounties, took a shot just outside the 18-yard box, scoring the first goal of the game. The boys were able to hold off Clearfield for the first half, even after having a free kick placed right outside the box. The first half ended with a score of 1-0, but the Mounties were not satisfied.
Both teams came out of halftime on their toes; the Clearfield boys were fighting for a goal, but PO held strong on defense. Twenty-one minutes into the second half, Alex Godin scored with an amazing assist from freshman Carson Long. Long brought the ball down on the left side of the goal, pulling the defenders towards him and allowing the middle to open up for Godin. Long shot the ball and Godin ran onto it. The ball rolled under the Bison's goalie and Alex finished it off giving them a 2-0 lead over Clearfield. 
The last goal of the game was scored by Long. He skillfully dribbled through three of the Clearfield players and had a beautiful rolling shot on goal securing the game for the mounties. Their record is now 6-3-0. 
The Mounties play Central Mountain this Saturday, October 2, 2021, at their home turn. Kickoff is at 11:00 AM. Come support!