West Branch Slips Past Bishop Guilfoyle Heading to District Semi-finals
The Lady Warrior soccer team is ranked first in its district and fourth in the state
Altoona- On October 19th, the warriors got their 16th win of the season over Bishop Guilfoyle. The Lady Warriors defeated the Mauraders 1-0 with the lone goal by Jenna Mertz. The Lady Warriors possessed the ball for almost the entire game and were able to pass around the Mauraders team. The Lady Warriors fought hard on the Bishop Guilfoyle field, even with the difficult field conditions. The Lady Warriors were not used to these field conditions which gave the Mauraders the home-field advantage in the game. However, the Lady Warriors still played their best on the unfamiliar field.
The Lady Warrior defense shut down the Mauraders on several occasions, making it hard for them to even have a shot on goal during the game. They were able to hold BIshop Guilfoyle to only two shots on goal, which goalkeeper Katlyn Folmar saved. Both of these shots occurred in the first half resulting in zero shots in the second half of the game. The Lady Warrior defense included Eleyna Hanslovan, Olivia Stavola, Abby Diviney, and Madison Kephart. These Lady Warrior's played terrific during the game and in the end, got their 10th shutout of the season. 
Mertz scored about nine minutes into the game. Emily Parks volleyed the ball to Mertz over the Bishop Guilfoyle defense who ran onto the ball with a heavy touch. The big touch dragged the goalkeeper out of the goal, which Mertz one-timed past her into the back of the net. 
The Lady Warrior win clinched them the first seed in the District 6 single-A playoff tournament which starts October 28th for the single-A girls. Bishop Guilfoyle will go into the tournament as the second seed. 
The Lady Warriors had 8 total shots in the game, while Bishop Guilfoyle had 2. Folmar had 2 saves and Bishop Guilfoyle's Finley Steinbugl had 7 saves. 
About the Contributor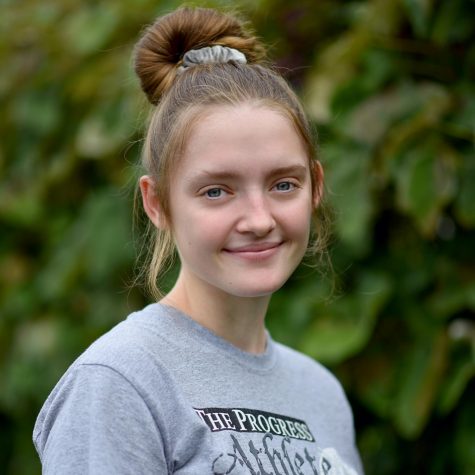 Lauren Timblin, Staff Writer
Hi! I'm Lauren Timblin, I'm a senior this year. I play varsity soccer and run track at West Branch. I am a two-time district champion in soccer and...