Female Team of the Week: Warrior Basketball
These ladies completed a winning season and qualified for the District 6 playoffs
The Lady Warrior basketball team has been selected as Warrior Watch's Female Athlete of The Week for the week ending on 2/25/22. The Lady Warriors completed their season on Monday, February 21st, in a District 6 playoff game against Purchase Line falling 63-49.  The Lady Warriors finished the season with a record of 12-9. 
Head Coach, Justin Koleno, had a few things to say when asked about a recap of the season. "Our season began in an odd fashion, as I was out with Covid with one practice to go before our first game. Coach Chad Koleno stepped in for me and the girls went 3-1 before our Christmas tournament. Not long after that, we lost Emmie Parks for the season due to injury. Her loss was noticeable with our team's rebounding and overall energy. As the season went on, the girls settled into roles and made great improvements – especially on the offensive side. We had a couple great career-highs along the way: Jenna Mertz scored 32 at Curwensville and Katrina Cowder scored 24 against Harmony. While the season totals are still being calculated, Allison Shingledecker is leading all progressland players for three-point shots made and Jenna scored over 300 points for the season. These three girls led us in scoring on the year and all three are sophomores. Erin Godin and Hannah Betts rounded out the starters – both being big contributors down the stretch. Kayleigh Smeal provided consistent energy and great defense off the bench. Montana Williams, and Freshman Dawn Glover gave us stability at the post position getting rebounds when called upon. We ended with a 12-9 record in the regular season. Our first quarter of our playoff game we showed our age a bit – we made some costly errors. For the rest of the game, we showed our grit though. We shrunk a 15 point lead to 6 at halftime (26-20). I was proud that the girls didn't pack it in after a rough start. Freshman, Sarah Guglielmi showed up big in the biggest game of the year with 9 points. Jenna had 25, and Ally had 11. We fought back, but didn't have enough to dig ourselves out of the hole we made. We are the only team on our schedule without a senior. I am excited that this team gets to reload and do it again next year!"
Facts About Allison Shingledecker :
Parents : Sam and Stephanie Shingledecker 
Siblings : Noah and Emily Shingledecker 
Favorite Basketball Memory : Stepping onto the court for my first basketball playoff game 
Favorite Food : Chicken Alfredo
Favorite Movie : Mamma Mia
Facts About Montana Williams : 
Parents : James and Melissa Williams 
Siblings : Josh and Tucker Williams 
Favorite Basketball Memory : Making playoffs
Favorite Movie : Bee Movie 
Favorite Food : Pizza Rolls 
Photo Credits : Stephanie Shingledecker 
Photo Caption : The Lady Warriors get a picture together after their season ended. 
Tags : Basketball, District 6, Lady Warriors
About the Contributor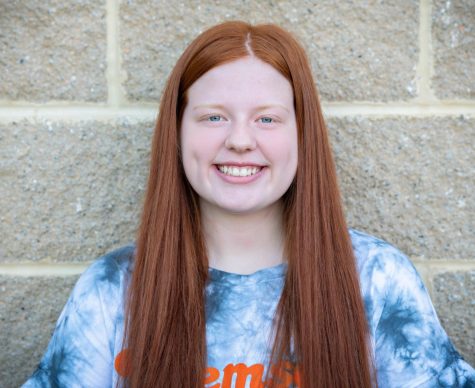 Brooklyn Myers, Staff Writer
Hi! My name is Brooklyn Myers. I am currently a junior at West Branch Area High School, and this is my second year involved with Warrior Watch. I also...