A Simple Skincare Routine for Teenagers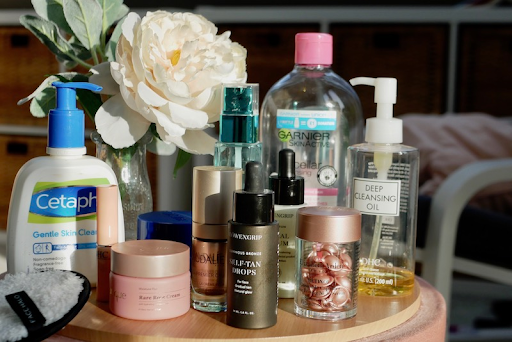 With the recent explosion of "Beauty TikTok", there has also been a resurgence in skincare, with what routines and products a person should be using on his or her skin. Paired with the constant overconsumption of the beauty industry, and prodigy skincare specialists discussing 10-to-12 step routines, a decent skincare routine can be challenging to make. Luckily, there are small two-to-three step routines for a teenager to start with their skincare journey. 
Step one is cleanser: a good cleanser is mandatory to start a skincare routine. Along with moisturizer, it is a wonderful start, but other than that, you need to have the right cleanser for your particular skin. There are several different types of skin: oily, dry, combination, and sensitive. It is important to find a cleanser that matches your skin type, or else, it could make your skin or concerns worse. 
Oily skin: the best type of cleansers for oily skin are ones with BHA (salicylic acid). This ingredient targets blackheads and acts as a gentle exfoliant. You also want the cleanser to be a gel consistency to prevent additional oil.  Good BHA gel cleansers include The Inkey List salicylic acid cleanser or the Cerave SA cleanser. Though used every day, this ingredient can be harsh, so it's best to use it a couple of times a week, paired with a gentle cleanser. 

Sensitive: if your skin gets red and irritated easily, then your skin type is probably sensitive. The best types of cleansers for this skin type will contain calming ingredients, such as aloe vera, rosewater, or Hyaluronic acid (you also want to look for these ingredients in a moisturizer). These ingredients can help calm and gather moisturizer for the skin. With sensitive skin, there is a longer list of ingredients you need to avoid. Look for fragrance cleansers and products with a high percentage of acids like AHA or BHA. 

Dry skin: if you have dry and flaky skin, and have trouble retaining moisture, your skin is probably dry. For a cleanser, the best options are milky cleansers, like the La Roche Posay Toleriane gentle face wash, or the Versed milky cleanser (preferably ones that are non-foaming; unlike oily skin, you don't need a stronger formula to cleanse the skin).  Moisturizer is key for dry skin. It's best to use a thick moisturizer containing ceramides and Hyaluronic acid. 
Combo skin: if you have more oily skin around the T-Zone (nose and forehead), and dry patches with redness on your cheek or chin, your skin is likely combo skin. For a cleanser, try a gentle gel cleanser like the Versaed rosewater cleanser or the La Roche Posay toleriane foaming cleanser with niacinamide. Niacinamide is a gentle ingredient that helps oil control and reduces redness. For combo skin, a lightweight cream moisturizer that can heavily moisturize, but not cause excess oil around the T-Zone is preferred. Examples include the Inkey List peptide moisturizer or the Ordinary natural moisturizer with HA.