Tips for Preparing for an Interview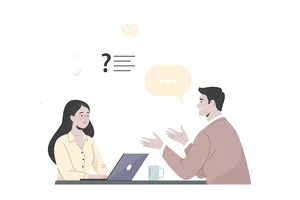 The senior class mock interviews will be happening at the end of March, through early April. Although some students have already been interviewed and hired for jobs, there is still a handful that has no interview experience. Knowing that there's an interview coming up can be nerve-wracking for most, so it's important to be prepared. It's also important to take the mock interview seriously as if it's a legitimate interview for a job that others will be trying for. Moreover, mock interviews are general, meaning they're not specific to a particular job. However, when interviewed to apply for a position at a company, it's common to be asked a few questions related to the job. Regardless, being prepared will make the interview much easier. Seniors were sent an email from Mrs. Hubler with a date, time, and location of the interview. In addition to the email, students also received a rubric and a list of possible questions. In an interview for a job, it's important to remember the date and time of the interview, and it's important to be on time for the interview because it shows the employer that you're reliable. During the mock interview, students will be graded in four categories: professionalism, preparation, communication, and overall success. This rubric can also be followed during an actual interview. 
Professionalism 
This category includes attire; students should aim to wear business-casual clothing if possible. For example, khaki pants or jeans with no tears should be worn. It's important to wear clothing with no stains or tears and to look presentable. This category also covers appropriate language and mannerisms. Students should show mannerism by a handshake, an introduction, and respect when speaking. 
Preparation
This area can easily be executed successfully by going over the questions given. Have a good idea of how to respond to each question, and keep mental notes of points you wish to mention. It's also important to keep in mind the interviewer's name and to greet them when the interview begins. 
Communication
This category includes the conversation itself. Responses should only be brief and be precise to the questions. When speaking, be clear and easily understood. Avoid saying "um" and "uh". It's important to think the question through before giving a response. 
Overall success 
This category includes the flow of the interview, and how the questions were answered. In other words, to get the full points, it's important to stay professional during the interview. Additionally, the interviewer may give feedback and constructive criticism. Overall, take the criticism well, and listen when the interviewer is speaking.