Staff Member of the Month: Betty Fry
West Branch High School Mathematics Teacher retires early.
The Staff Member of June is Mrs. Betty Fry. Warrior Watch has selected Mrs. Fry for the second time to highlight her commitment and enthusiasm as a teacher at West Branch. She holds nearly 25 years in the West Branch Mathematics Department. 
Mrs. Fry graduated from West Branch in the Class of 1987. In high school, she participated in various extracurriculars, including Band (County and District), Drama, Spanish Club, Science Club, and NHS. Following high school, Mrs. Fry studied at Penn State University to earn a Bachelor's degree in Secondary Education. Mrs. Fry explains her dream of becoming a teacher began in early childhood when she would make her sister do worksheets. Others noticed her natural teaching ability, telling her all through elementary and high school that she would be an educator. Although, even if Mrs. Fry has always known, there was a time of questioning. She references her senior yearbook that says she wanted to be a Biomedical Engineer.
With many influences in her life, Mrs. Fry continues to credit her high school calculus teacher, Joe Leskovan, as her mentor. Mr. Leskovan was a model teacher who motivated Mrs. Fry to pursue her love for math (as lively yet serious) as he had. When Mr. Leskovan passed away from cancer following her graduation from West Branch, Mrs. Fry suggested planting a tree at the school in his memory. Although this plan never went into effect, Mrs. Fry thinks of herself as "a branch of Mr. Leskovan's tree" by inspiring her own students to become math teachers. 
In her time at West Branch, Mrs. Fry has been a secondary math teacher, a gifted instructor, and for the last two years, a cyber advisor/teacher. As an experienced educator, she has seen changes in technology affecting how children process/access information, meaning education must also adapt. Along with these differences, she has found challenges in keeping open communication with parents and adjusting to student standardized testing scores. However, despite the obstacles, Mrs. Fry has enjoyed being a resource for students to reach out to, especially as a long-standing member of the Student Assistance Program. It has also been a perk to watch her three children grow up and attend her alma mater and place of work. Mrs. Fry has many accomplishments, but she takes pride in the time she organized a grand pi day at West Branch. Her calculus class gave the elementary students a lesson on the number pi, and t-shirts were designed and sold throughout the entire school. Students could participate in pi digits recitation contests where the winner got to pie or "pi" Mrs. Fry.
The first time Mrs. Fry was appointed for Staff Member of the Month, she started her sabbatical leave. She is battling an autoimmune disease called Crohn's Disease, which causes inflammation in the digestive tract. Mrs. Fry received a diagnosis in 2016, but as the illness became more painful and draining, it began to affect her teaching. In November 2019, she chose to go on sabbatical, typically a more temporary leave of absence from work. During her sabbatical on March 13, 2020, not only did the world shut down, but Mrs. Fry lost her oldest son Matthew to suicide. He was an alumnus of West Branch and a veteran of the United States Air Force: a man loved by the community. When the COVID-19 pandemic hit, Mrs. Fry could work from home with cyber students through the West Branch Virtual Academy and continued to do so through the 2021-2022 school year. Although she enjoyed the program, Mrs. Fry says, "it wasn't the same as being in the classroom." With her ongoing Crohn's Disease and inability to do what she truly loves, Mrs. Fry decided she should stop teaching and apply for early retirement.
In the past two years, she has also taken the initiative to break the stigma around suicide she encountered following Matthew's death. Mrs. Fry now advocates for normalizing conversations about suicide by encouraging parents, teachers, friends, couples, and everyone to talk about it. She believes spreading awareness and discussing suicide could be the key to fixing some of the issues society has faced regarding mental health. She has also consistently joined the military organization Tragedy Assistance Program for Survivors. To use her voice, Mrs. Fry developed the website www.promise2reachout.com which serves as a resource for information. 
At home, Mrs. Fry has her husband Mike, her twin sons Sam and Noah, and three cats, Annabelle, Dink, and Gibbs. Annabelle is known as the old, grumpy calico, Dink is a protective Russian Blue, and Gibbs is the people-pleasing baby of the family. In her free time, Mrs. Fry enjoys birding and camping. Mike, Dr. Fry, is an educator at Central Mountain Middle School. Sam is a rising senior at West Branch on the Varsity Football and Track and Field teams. Noah, our former Co-Editor, will be attending Penn State University this fall to study Meteorology and pursue his musical dreams. 
Congratulations to Warrior Watch's Staff Member of June, Betty Fry! Mrs. Fry helped our school newspaper take flight in 2018. We send her gratitude for her dedication as a teacher and our advisor over the years. As we wish her the best of luck in retirement, beginning this month, students and staff will miss her vibrant spirit among the halls of West Branch.
About the Contributor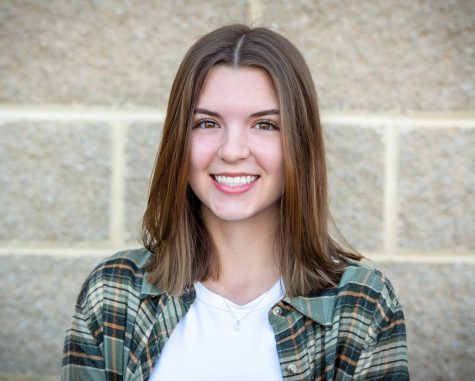 Kaitlyn McGonigal, Editor-in-Chief
Hi, my name is Kaitlyn McGonigal. I am currently a senior at West Branch Area High School. I am involved in Student Government, The National Honor Society,...