West Branch Volleyball Senior Night
West Branch Volleyball team defeats Glendale on Senior Night.
On Thursday, October 13th, the West Branch Volleyball team faced and defeated Glendale in three sets, keeping up their undefeated record. Not only did they come out on top against Glendale, but it was also Senior Night and a celebration for Head Coach Terry Trude's 700th game win.
West Branch celebrated three Lady Warrior seniors and the seniors from Glendale on Thursday night. The Warriors recognized and congratulated Savannah Hoover, Matayha Kerin, and Hayley Wooster on their outstanding high school volleyball careers.
The seniors were announced and escorted by their loved ones, with information about them read aloud. Being escorted by her mom, Angela Cole, and her sister Sidney Hoover was Savannah Hoover. Her plans include graduating high school, becoming a phlebotomist, and buying a house where she will live with her cat. Along with volleyball, Savannah is a member of the National Honor Society, the Senior Class Secretary, and a member of the Varsity Club. Her favorite volleyball memory is the 2021 Volleyball Camp in Indiana.
Next was Matayha Kerin, escorted by her brother Austin Kerin. Her post-graduation plans include attending a college close to family and friends and majoring in Psychology. Besides volleyball, Matayha is also in the Health Occupations program at the CCCTC and NTHS. Her favorite volleyball memory was going to hibachi with her team at the Indiana camp.
The last senior on the team is Hayley Wooster. Accompanying Hayley was her parents, Mark and Monique Wooster. Her plans for the future include attending college to study in the medical field, then moving somewhere warm and starting a family. Along with volleyball, Hayley is also a member of the National Honor Society, Varsity Club, student government, and Senior Class Secretary. Her favorite volleyball memory was also spending time and going to hibachi with her team at the Indiana camp.
However, the seniors were not the only ones who celebrated the night. The Head Coach, Terry Trude, also had a reason to celebrate, as he achieved the 700th win of his coaching career at the Pottsville Tournament on October 8th. The excitement gave the eccentric student section a reason to cheer as they held fatheads of the player's and coaches' faces while showing their support by wearing jerseys to match the game night's theme.
Overall, it was a terrific night for the volleyball team, and West Branch wants to wish the seniors good luck in their future endeavors. The community also congratulates Terry Trude on his successful coaching career!
About the Contributor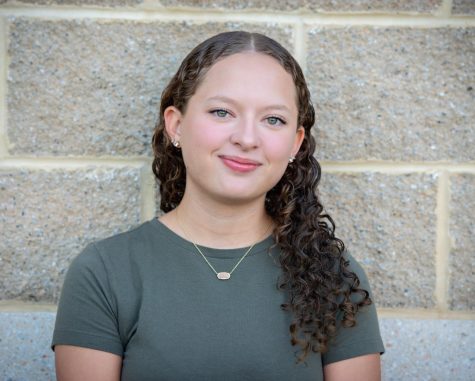 Kinzey Moriarity, Staff Writer
Hi, my name is Kinzey Moriarity! I am a senior at West Branch, and this is my first year participating in Media Arts. Right now, I work at Dunkin' Donuts,...