The Warriors Finish the Season With a Win
The Warriors conquer the Moshannon Valley Knights 34-19 for the season finale.
On October 28th, the Warriors defeated the Moshannon Valley Knights in their final game this season. West Branch recognized the football team, cheer team, and marching band seniors for Senior Night before the game. 
The football seniors included Sam Fry, Kyle Kolesar, Gabe McCamley, Landen Pase, and John Stavola. The marching band seniors were Kayleigh Smeal, Aubrey Kennedy, and Joelle Fletcher, the only senior cheerleader. The seniors on the football team took a moment before the game to present Aiden Collar's mother with a fundraising check of over one thousand dollars from A Wish for Aiden. 
During the game, Tyler Biggans set the new school single-season rushing record with a season total of 1,881 yards. The previous record was set by Derek Yingling, with 1,847 yards in 2018. On Friday, Tyler ran the ball for two hundred yards and had two touchdowns. 
The opening kickoff gave the Warriors some momentum. The first kick went out of bounds, so the Knights elected to re-kick. During their second attempt, the Knights misjudged the ball, and Landen Pase recovered for the Warriors. Tyler Biggans ran for 32 yards. On the next play, Wyatt Schwiderske ran into the end zone for the first touchdown with about seven minutes left in the first quarter. On the next Knight possession, they fumbled for the first fumble of the night out of four. It was a night of turnovers. In the following play, Knight defenders picked off a pass from Biggans. The Knights struck back, leveling the score to 7-7. With only a few seconds left in the first half, Biggans connected with Schwiderske for a touchdown, increasing the score to 14-7. 
At the half, the Warriors were ahead 21-7. The Knights scored late in the third quarter but missed the extra point and made the score 21-13. With only nine minutes left in the fourth quarter, Biggans dove into the endzone, and Emma Bucha missed the extra point. The touchdown from Biggans increased their lead to 27-13. Wyatt Schwiderske, with three touchdowns in the game, achieved the final touchdown for the Warriors, finalizing the score of 34-19. The Warriors ended their season with four wins and six losses. 
About the Contributor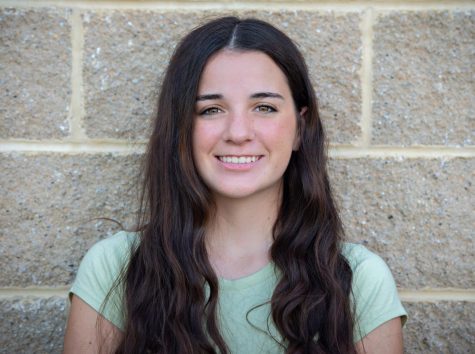 Hannah Betts, Staff Writer
Hi, my name is Hannah Betts. I am a senior at West Branch. I participate in varsity soccer, basketball, and softball. I also am a member of Student Government...