Warriors Get Revenge Against the Owls
West Branch Boys' Basketball team comes home after an enormous win over Harmony 79-73.
On Friday, January 27th, the Warrior Basketball team traveled to Harmony to play the Owls, who ended the Warriors' undefeated Moshannon Valley record just over two weeks ago on January 12th. However, the Warriors got their revenge after defeating the Owls 79-73.
The Warriors trailed 42-31 at the end of the first half but fired back better than ever in the second half to finish with a 79-73 win against the Owls. Players like Owen Koleno, Joel Evans, and Lukas Colton making their free throw shots helped the Warriors stay up toward the end of the game. The Warriors made seven of their nine free throw shots resulting in the win. 
West Branch sophomores Owen Koleno and Joel Evans have played a considerable role in the Warriors' successes this season. Owen Koleno has been one of the lead scorers this season, and this game was no different; he ended the game with 20 points and seven rebounds. Joel Evans, another lead score for the warriors, leads the team with 16 points and eight rebounds. 
Joel Evans, one of the lead scorers from Friday's game, said, "The game started amazing, with Isaac scoring our first points of the game then Owen following that with a three. Then from there, it was a back-and-forth game, with both teams scoring with ease. By the half, we were down by 11, but we all knew in our head we were going to win it. We played our best basketball yet and thanks to the long time spent running our end-of-game setup, we came out of the game with a well-needed win!" Another lead scorer and fellow teammate, Owen Koleno, said, "It was a huge win. We all knew how important this game was, and it felt good to finally beat a team that's beaten you the last couple of years. Especially after dropping a couple of our last games, it was good to get back in the win column." 
The West Branch Warriors will play their next game on Tuesday, January 31st. They will be traveling to Glendale, where they will face the Vikings and hopefully come home again with a win. The game will start with junior varsity at 6:00 p.m., and varsity will follow immediately after. The team wishes to continue to win and extend its season into playoffs. Standing at a tie, West Branch and Harmory are in first place in the Moshannon Valley League. 
About the Contributor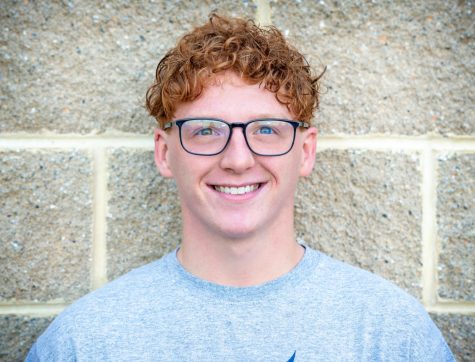 Matthew Eirich, Staff Writer
Hi! My name is Matt Eirich and I'm a writer for Warrior Watch. I'm a senior and I play for the soccer, football, and baseball teams here at West Branch....