A Halloween Movie Tier List
Tier lists are a popular genre on Youtube and social media, serving the purpose of ranking different categories. Tier Lists use letters to rank, with "S" being "superb," followed by A, B, C, and D, at the bottom of the barrel. Because there have been so many Halloween movies over the years, I'd thought I'd share my personal rankings for some of the most popular! 
---
S- It's The Great Pumpkin, Charlie Brown was created in 1966, and is based on Charles M. Schulz's classic comic characters. It's a classic for any fan of Peanuts!
A – Beetlejuice, produced in 1988 by Tim Burton, has always been a fan favorite, but I suggest any Tim Burton movie as a great choice to watch on Halloween. I also recommend the original Ghostbusters (1984), written by Dan Akroyd. It spawned a fan favorite and the unfortunately discontinued fruit drink, the citrus-flavored Hi-C Ecto-Cooler, which over the years has seen numerous rereleases, the latest being in 2016. In the hit Netflix series, Stranger Things, Dustin, Lucas, Will, and Mike dress up as the Ghostbusters for Halloween. Let's put a NEW movie at the top of the list: Muppets Haunted Mansion was just released on October 8th, and it's a hit for anyone who loves a little Muppet humor. 
B- E.T. The Extra Terrestrial, produced by Steven Spielberg in 1982, brought attention to the idea that aliens could exist and might not be so bad after all! Anything starring Jack Black is a good bet, so give Goosebumps (2015) a try if you were a fan of the book series, or even if you weren't!
C- If you want more of a cartoon feel, try Disney's The Adventures of Ichabod and Mr. Toad (1950). Hocus Pocus is a decent Disney movie if witches are your thing. 
D- Rocky Horror Picture Show, made in 1975 by 20th Century Fox, has a cult following, but might not be popular for people who don't like musicals.
---
Tier lists are fun because they give everyone an opportunity to share their opinions on a variety of topics. What movies would you add to this tier list? 
About the Contributor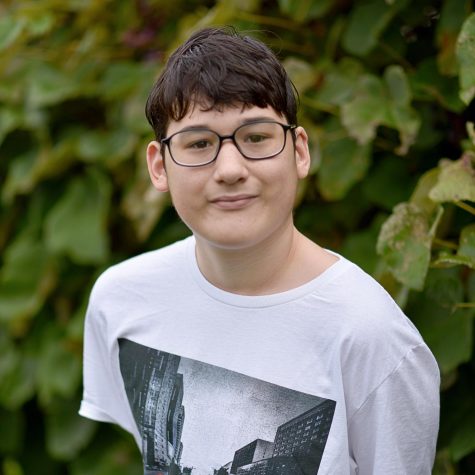 Doug Howe, Staff Writer
I am Douglas Howe and I am in 9th grade. I was involved in West Branch's production of Oklahoma and plan to do more. I also enjoy making YouTube videos....