Smokey Bear Retires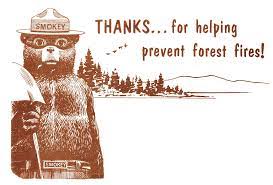 At the age of 78, Smokey Bear is retiring from his Wildfire Prevention campaign. Smokey went into retirement after Stefan Hood of the BC Wildfire Service said they want to change how people view wildfires, to no longer see it as something to stop but rather something to live with and overlook.
As sad as it is to lose the beloved bear who taught children of the United States forest fire prevention steps, stopping the fires is not the primary concern. The new focus is on maintaining life while living with the fact that fire can be helpful in some areas. For example, it helps to remove low-growing underbrush and clean the forest floor of debris, like plastic and other garbage, that is harmful to wildlife and plants. Wildfires also open the forest up to the sunlight and nourish the soil. The BC Wildfire Service wants people to not always think of fire as harmful but more often as a way of life.
The climate change and events in places like California, Texas, Idaho, New Mexico, Colorado, Arizona, Washington, Utah, Oklahoma, and Wyoming, are devastating. Experts want us to, rather than be sad, be positive and think about the nourishment of soil when the underbrush is gone. They want us to understand that sometimes we cannot stop fires and that it is okay. Their first order of business is retiring Smokey the Bear to create a new message and mascot.
The new mascot is Ember the Fox. Ember was designed and made in Canada, where the idea originated. Although Smokey is an icon of past generations, Ember's brightly colored fur and animated look are more appealing to the younger kids of today. Along with her physical features, Ember brings the knowledge that fire can be controlled and helpful and that sometimes it is okay if forest fires arise.
The nation will miss Smokey Bear, but perhaps this new outlook on fire will be positive for our future. As you say your goodbyes to our beloved Smokey, be open to the new and welcome Ember. Try seeing fires from her perspective and mindset, so we can see where it takes us.
About the Contributor
Evelyn Lloyd, Staff Writer
Hello, I'm Evelyn Lloyd I am a proud student at West Branch and have been for the last 10 years of my life I love sleeping, dancing, listening to music...