Tips for Upcoming Course Selection
Rising freshmen, sophomores, juniors, and seniors at West Branch prepare to schedule classes for the 2023-2024 school year.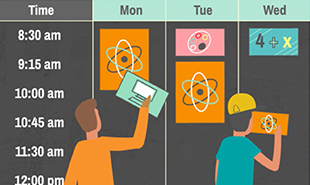 With the school year ending in three short months, students from grades 9-11 will decide what classes they will take for the upcoming 2023-2024 school year.
Scheduling classes for the upcoming school year can be difficult for some students but easy for others. Tenth graders accepted into the CCCTC for the 2023-2024 school year have their schedules largely planned out already. "Advice I give to 9th through 11th grade is to make sure they fill all Science, English, and Math classes before senior year," says senior Cassidy Frey.
Upcoming juniors and seniors also can take college-level Dual Enrollment courses with credits through Penn Highlands and Mount Aloysius. Two classes offered within the school district are Public Speaking and Introduction to Sociology. The program allows students to gain college credits while in high school for the career path they plan to take after graduating. West Branch Junior Allison Shingledecker stated, "Try and get a lot of your credits from grades 9-11 to make up for an easy senior year." Completing most required credits by senior year can also allow students to apply for co-op. Co-op is when students can leave school after all needed classes end and go to work. Many seniors this year can leave after 4th period.
Students can choose among the several classes designed to meet elective requirements or for anyone who needs the extra credits. There is a variety of art classes taught by Mrs. Steffan. Art is a fun class that allows students to be creative. The Music and Film class is another elective. The musically implemented class is with Mr. Jones, and students learn the purpose of music within films. Another fun and easygoing class offered at West Branch is Psychology with Mr. McCamley. Psychology is a course that teaches students about the human mind and its functions.
High school students should consider all their options based on requirements and interests during scheduling. Best of luck in the coming weeks to everyone who will prepare for next year!