West Branch eSports Teams Advance to Championships
The D1 and D2 eSports teams anticipate the upcoming championship on May 20th.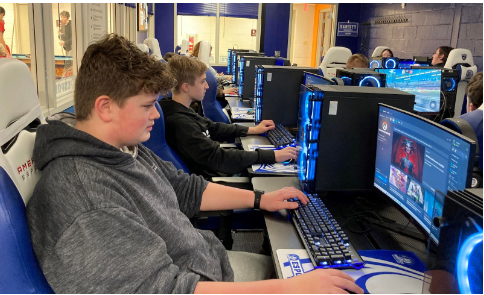 With the regular season wrapping up in April, the West Branch eSports teams are heading to the Championships on Saturday, May 20th. The eSports program is new to WBHS as of this school year, with help from the WBHS Technology Department: Preston Mitchell, Travis Gummo, and Branden Evans. They have arranged teams D1 and D2 for their game of choice, Overwatch 2. 
On May 20th, the eSports teams will travel to St. Francis University for the Championship games. The D1 team will oppose Hollidaysburg, while the D2 team will match up with Shade Central. The competition begins at 9:00 a.m. Liam Brown, a member of the D2 team says "this is a very exciting opportunity, and I can't wait."
Both teams received an invitation to compete in the TEC League Spring Competition. The competition began on February 27th, with a scrimmage against Moshannon Valley and Forest Hills. 
Over the D1 season, they played against Forest Hills, Somerset Area, Everett Area, and Ferndale. West Branch's D1 team went into the playoffs ranked number one and went on to defeat Forest Hills and Windber. They finished their season undefeated on April 12th. 
The D2 team played against Shade Central, Gateway, Ferndale, Richland, and Salisbury Elk Lick. The D2 team ranked fourth going into the playoffs. However, they defeated Greater Johnstown and the number one ranked team, Forest Hills. They wrapped up the regular season on April 5th.
During the preseason in January, the eSports teams visited the eSports Lab at Mount Aloysius College. They also held the TEC Media Day on March 16th, which WTAJ attended. 
With the large amount of support the eSports team has received, the program will persist into the next school year. Continue cheering on the eSports teams and wish them luck as they strive to do their best at the Championship this weekend!
D1 Team Roster: 
Hayden Martin (co-captain)
Jadyn George (co-captain)
Joey Kovalcin
Dakota Leinbach
Zach Robison
D2 Team Roster: 
Jonah Porter (co-captain)
Archere Meek (co-captain)
Liam Brown
Toby Mebs
Patrick Slingerland
Substitutes:
Hunter Ort
Kurtis Leigey
Alex Wooster
Media Design Artist: 
David Shirokey