Students Connect Through Music
West Branch students share the importance of music to them with musical experiences and perceptions.
With local school musicals wrapped up and the West Branch Spring Choir and Band concerts approaching, students continue connecting through their shared love of music. The West Branch student body is diverse in music taste, so many students shared what they are listening to and the importance of music to them!
Music is known to help people express themselves, fit their mood, be a distraction, and overall be a source of art everyone enjoys. Music is something that many of our students are passionate about, and you can learn a lot about a person based on their listening habits. Therefore, let us look at what our student body has been listening to and what music means to them!
Austin Silver's favorite artist is Ghostboy. From the artist's tracks, Austin enjoys 3:AM the most. Like other students, one of his favorite genres is gothic rap, such as the $uicide Boy$, who make music about mental health. Austin is a strong music enthusiast and uses it as his "escape that can manipulate my mental state." Of his passion, he has started to learn music on guitar.
Another student, Hayley Wooster, has been into Morgan Wallen and Jessie Murph, and her favorite song is Daylight by David Kushner. Her favored genres are Country and sad pop music. At the moment, Hayley has been listening to new albums by Morgan Wallen and David Kushner. Hayley says, "I use music as an escape. It helps calm me down if I'm upset or if I just need a break from reality."
Mayzey Wooster's favorite artist is Hot Mulligan, and her favorite song is But Not Often by Microwave. She has been listening to Midwest Emo and Metalcore lately and states, "Music means a lot to me and I believe music has the power to bring people together despite everything and has the power to heal anything." Mayzey also sings and is a soprano in our choir. She plays flute, piccolo, piano, french horn, bass, and guitar for themself and in our band.
An anonymous student with a deep love for music has been listening to rap music, such as NLE Choppa, j Cole, NF, Playboi Carti, Lil Uzi Vert, $uicide Boy$, and Machine Gun Kelly. But, has also has rock, metal, and neo-traditional country/folk in its daily mix, like Three Days Grace, Shinedown, Five Finger Death Punch, Tyler Childers, and Zach Bryan. They listen to many genres of music and have a deep passion for the meaning behind songs. They explain, "I don't leave the house until my phone connects to my car. I wear my AirPods everywhere. Before games, I'm always getting hyped up with some music. At 3 am doing god only knows what I'm doing, but there's usually music on. I just can't go without it. You can learn a lot about a person if you look at the music they listen to, that's what I think." 
Junior, Ciara Condon, has Sublime, GWAR, and a lot of Reggae and 90s rap in her rotation. Another junior, Braeden Salter, has a lot of Jane Remover and other glitch-pop artists in their music rotation, such as Brakence and Glaive. They are a singer in our choir and musical productions and believes that music "can be a lot of things to me, but i mostly see it as a way to express yourselfsong: royal blue walls by jane remover." 
Music is a great way to connect with others and express yourself; our student body shows this very well. Music is a passion for many, even if one does not partake in creating music themselves. I hope this article allows you, the reader, to better connect to our West Branch students and hopefully introduce you to some new artists and genres!
About the Contributor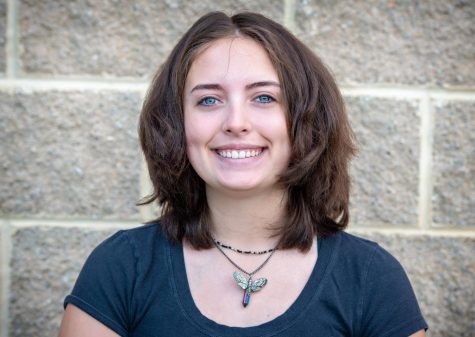 Tayla Dorbolo, Staff Writer
Hi, my name is Tayla Dorbolo! I'm a senior here at West Branch! I'm a member of Student Government and National Honor Society. Go Warriors!