Staff Member of the Month
Michael Hughes has been chosen to be Warrior Watch's Staff Member of the Month for November. Mr. Hughes has been a Secondary Math Teacher at West Branch for over 14 years. We congratulate and give thanks to him for all he has done for our community over those years.
Mr. Hughes graduated from Philipsburg-Osceola High School in 1979. He participated in playing the drums for both the marching and concert bands. Following High School, Mr. Hughes went to Penn State University in pursuit of a mechanical design degree. Having a degree in mechanical design led to his work at several firms, from designing small electrical components to even submarines and aircraft carriers. Mr. Hughes's life took a turn when he then pursued another degree in Mathematics and Secondary Education at Saint Francis University.
He began his career as a teacher at West Branch in 2006. Mr. Hughes says "I always enjoyed the purity of math as well as enjoying explaining math concepts to others," leading to his inspiration for following the career path as a teacher. Mr. Hughes shares that it can often be challenging to stay on track with the developing social dynamics of students in order to create an appropriate learning experience for everyone. Although teaching comes with great and difficult responsibilities, Mr. Hughes is able to flourish during times where there is little stress from curriculum advancement, and when he is able to interact with students and staff face-to-face.
Outside of the classroom, Mr. Hughes works as a musician, writing and recording songs. He sings, plays drums, and plays guitar. Mr. Hughes followed several other older and more experienced musicians who guided him towards his musical calling, some of which are now his close friends. He has new material coming soon, as he and his musician friends are constantly brainstorming and working on new projects. Mr. Hughes says "The fall is always my most creative time of year."
At age 58, Mr. Hughes is as happy as can be, married to his teenage sweetheart. They have two children and three grandchildren, as well as a mini dachshund named Bernice and a large cat named Ollie. He continues to work as one of our established math teachers at West Branch while working on music in his free time. 
Congratulations to Michael Hughes for being chosen as Staff Member of the Month and having such a successful life. During these difficult times and transition to online instruction, we give thanks to Mr. Hughes and all of the staff for their hard work and dedication.
About the Contributor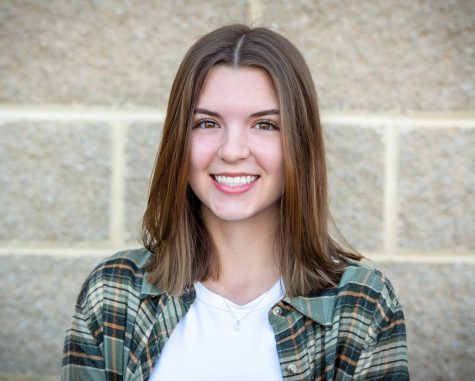 Kaitlyn McGonigal, Editor-in-Chief
Hi, my name is Kaitlyn McGonigal. I am currently a senior at West Branch Area High School. I am involved in Student Government, The National Honor Society,...