September Apple Event Unveils New Products
Apple releases a variety of new products, including the iPhone 14 series.
Broadcasted from Apple Headquarters in Cupertino, California, at 1:00 PM (EST), Apple hosted their 'Far Out' event, the third Apple event of the year. Apple CEO Tim Cook began the event by standing in the center of Apple's Headquarters and immediately sharing the lineup of products discussed: the iPhone, Airpods, and the Apple Watch.
First on the line of conference was the Apple Watch. Before going into details of any hardware or software, a montage was shared of people reading letters they had sent to Tim Cook about how their Apple Watch possibly saved their life. The Apple Watch Series 8, alongside the Apple Watch SE and Apple Watch Ultra, were announced. The Series 8 is vastly similar to the Series 7 with the same size and design, aside from the new safety features. More unique sensors allow a more sensitive accelerometer and gyroscope to detect crashes and automatically send help. A new body temperature sensor will track your temperature while sleeping, and women can now get a full detailed view of their menstrual cycle.
Following the Apple Watches, Apple discussed one of their most successful products of all time; Airpods. The new 2nd-generation Airpods Pro is the first to feature Apple's latest H2 chip, providing faster processing with less power. The new custom low-distortion driver and amplifier will improve sound quality and noise-canceling capabilities.
Then came the time to announce the product everyone had been waiting for; the iPhone 14 Series. The iPhones announced were the iPhone 14, iPhone 14 Plus, iPhone 14 Pro, and the iPhone 14 Pro Max. While the iPhone 14 is quite similar to the iPhone 13, there are several differences and improvements. The first significant difference was the disappearance of the mini size. Photos now process in Apple's Photonic Engine, which boosts the quality in detail of low-light images. Apple claims the battery life will be even better than the iPhone 13 Pro. (29 hours of video playback, rather than 28 hours.)
Tim Cook said to close out the event: "Making products that are so personal and indispensable is what drives us to continue innovating. Improving on what are already best-in-class experiences." Based on this, the next Apple event will be another step of innovation-filled excitement.
About the Contributor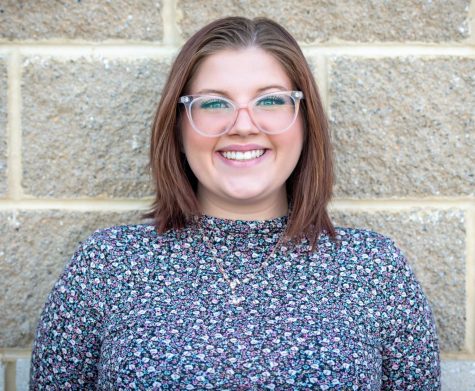 Raven Myers, Staff Writer
Hi! I'm Raven, a senior at West Branch Area High School. I am president of the drama department, student technician for the high school auditorium, and...