Winter Backyard Bird Feeding Fun
A guide to all things bird watching and bird feeders.
Have you ever seen or heard a bird in the woods or your yard and wondered what species it was and what it eats? If you enjoy seeing birds or want to learn more about them, put up some bird feeders!
The world of birding and bird watching is much more fascinating than it may seem. Once I got into birding, I realized there are way more birds around here than I ever thought; in fact, there is a rough total of 414 species in Pennsylvania alone! To begin your birding experience, put up some bird feeders.
First, you must know how to install a feeder in your backyard. To start, you will need a type of pole or hook and attach it to a chain. If you plan to install a rod into the ground, be sure it is within viewing range from a window of your choice, but preferably not near the road. You can hang the feeder on a tree, your shed, or a clothesline pole as long as it is at least 5 feet off the ground. Also, to deter squirrels from eating your bird's food, PVC or some low-friction metal cylinder can be attached to the pole and prevent squirrels from gripping it, as long as it's big enough.
I recommend getting a hopper or platform feeder. Acquiring both will please nearly every bird in your neighborhood and should get you a wider variety than just having one. Although, the platform feeder may be a bit more strenuous to install. I also recommend getting a suet cage or two. Suet is a block of different nutrients and tasty food for birds. There is a wide variety of suet flavors, but the main birds that love most flavors are primarily woodpeckers and nuthatches.
For your seed, I recommend getting black oil sunflower seeds. Many birds enjoy these seeds and only need a standard hopper feeder. Seeds like thistle seed need a different feeder but attract a smaller minority of birds. You can put dried mealworms out for Eastern Bluebirds, one of my favorites, but they are more active during the summer than in the winter.
Some birds that go to feeders with sunflower seeds and suet include Black-Capped Chickadees, House Finches, White-throated Sparrows, Northern Cardinals, White-breasted Nuthatches, American Goldfinches, and more. Rarer winter visitors are Pine Siskin, Evening Grosbeak, Red Crossbill, White-winged Crossbill, and Common Redpoll. These winter species are rarer since they travel here from Canada and don't always travel much farther than the Northern U.S.
Evening Grosbeaks are rare, beautiful, and my favorite bird. "They make very erratic movements south into the continental United States in some winters when they can become common at backyard feeders. Away from backyards, they winter in forests and feed in both deciduous and coniferous trees, often at higher elevations," according to allaboutbirds.org.
Get your feeders set up, grab your binoculars, and have fun watching varieties of birds arrive in your backyard.
About the Contributor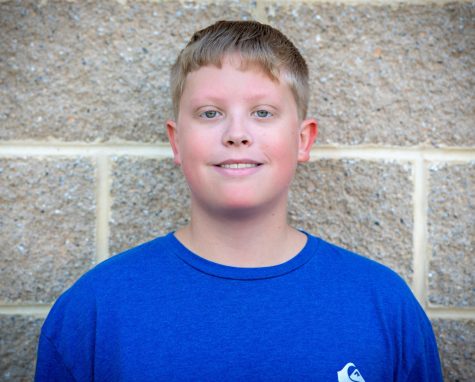 Tanner Schwiderske, Staff Writer
Hi! I'm Tanner Schwiderske, and I'm currently a Freshman at West Branch. I enjoy nature and play video games, draw, and birdwatch in my free time....